Sun Dried Tomato Vermicelli
Overview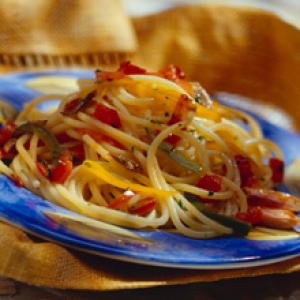 Ingredients
1 8.5oz Jar Bella Sun Luci Sun Dried Tomatoes Julienne cut in olive oil, drain reserving olive oil
¼ Cup Reserved Oil From Sun Dried Tomatoes
½ lb Vermicelli, broken up
1 Sm Onion-Minced
2 garlic cloves, Minced
¼ cup Fresh basil leaves, torn as garnish
½ tsp salt
¼ Tsp Black Pepper
4 Cups Chicken Stock
1 Cup Parmesan Cheese-Grated
Serves 1
Directions
In a large pot heat oil
Add vermicelli and sauté until golden brown, stirring constantly.
Add sun dried tomatoes, salt, and pepper and simmer about 3 minutes.
Stir in stock and bring to a boil.
Reduce heat and simmer until most of the liquid is absorbed, about 15 minutes.
Transfer to serving dish, sprinkle with Parmesan cheese and fresh basil leaves.
Serve immediately.