7th and 8th Place Honorable Mention – 2014 Recipe Contest
Chef Richie here, at your service!
Love is in the air! Love is in a lot of places…Cupid is all over the place…did you know that Cupid is actually a chef?! What's that about the way to a man's/woman's heart is through the stomach?…nothing like a man in the kitchen…and on and on.
Our seventh and eighth honorable mention prizewinners in our 2014 recipe contest are…home chefs…drum roll please…Deborah Cobb and Pam Norby! Congratulations Chefs!
Chefs Deborah and Pam will be receiving a deluxe gift assortment of Bella Sun Luci ingredients, as recognition for a job well done and to get a head start on this year's Mooney Farms/Bella Sun Luci recipe contest. Everybody else…watch out! Here comes (Deborah and Pam) Trouble…with a capital T!
First we have: Sun Dried Tomato Soup (you can call this "Bisque" if you want, although bisque means 'twice cooked', hence the companion recipe: Sun Dried Tomato Biscuits, but what the heck, even the biscuits are only cooked once (chef's note: biscotti…biscuits in Italiano…are cooked twice!). Chef Richie Says: no matter what you call it, everybody loves this soup…made richer by the addition of Bella Sun Luci sun dried tomatoes.
Ingredients (serves 8)
2 TB olive oil
4 stalks celery
4 carrots
½ Spanish (yellow) onion
3 cloves crushed garlic
1 TB dried basil or ¼ c fresh basil
1 tsp dried oregano or 1 TB fresh oregano
1 bay leaf
1 14.5 can fire roasted tomatoes with juice
½ c Bella Sun Luci Sun Dried Tomatoes, either Halves or Julienne cut, oil drained and reserved aside for another dish
4 c chicken stock (or substitute vegetable stock for a vegetarian soup)
4 TB butter
¼ c flour
2 c half & half, or heavy cream, or milk
1 c parmesan cheese grated
1 tsp salt
½ tsp black pepper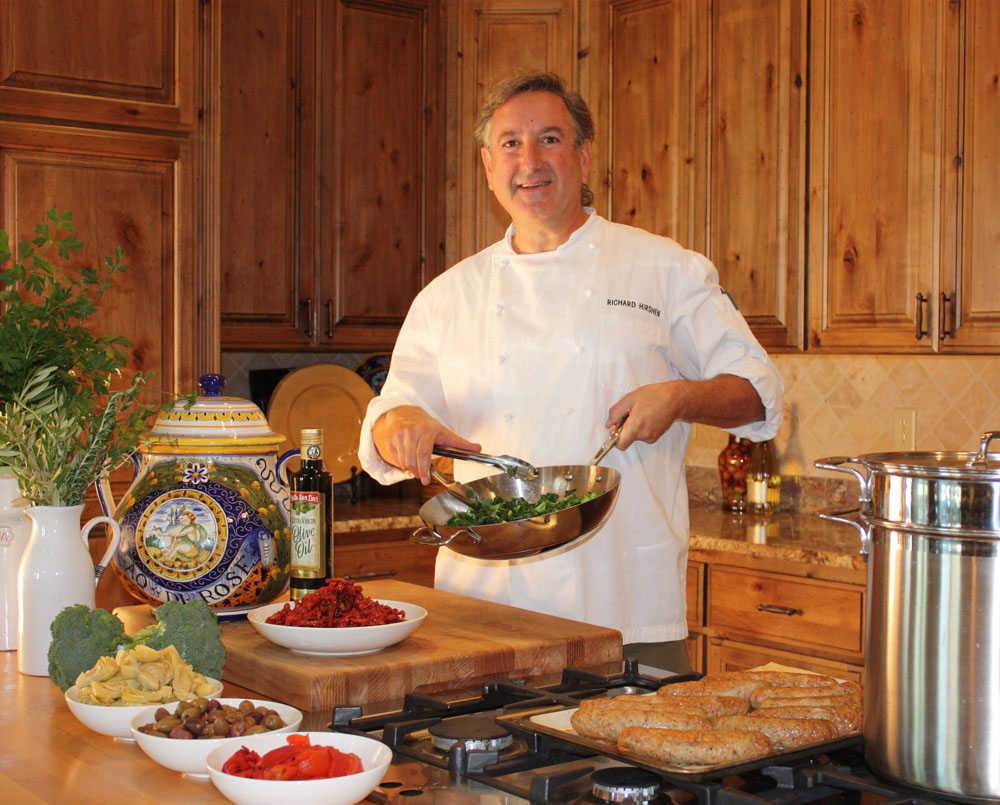 Directions
Mix celery, carrots, garlic and onion in a food processor and chop till minced. Heat olive oil in 4 qt soup pot on a medium flame and add the minced vegetables. Cook for 5 minutes. Add basil, oregano, bay leaf, fire roasted tomatoes, sun dried tomatoes and chicken (or veggie) broth. Bring to a boil then reduce to a simmer and simmer for 15 minutes or until carrots are tender.
While soup cooks melt butter, add flour and cook slowly (for about 5 minutes until it smells toasty/almondy), stir in 1 c soup until thickened and add to the vegetable mixture. Take the bay leaf out and discard, put the soup in the food processor (or use an emulsion blender) in batches and puree. When smooth, add parmesan cheese, whisk in milk/choice of dairy and simmer for another 15 – 20 minutes. You may add fresh tomatoes to the top of soup when serving if desired.
*Chef Richie Says/advises: use a wooden spoon throughout to stir, gently touching the bottom and "corners" of the pot so nothing sticks…roux, which is what you're making with the butter and flour, tends to stick to the bottom of the pot and sometimes burn if you're not careful and a chef-"masseuse" ("massage" your roux!)
*Chef Deborah says: This will be the best tomato soup you have ever tried. Deborah is definitely a chef…confidence level: HIGH.
Now, for the Sun Dried Tomato Biscuits.
*Chef Richie Says: Get yourself some heart shaped cutters for your biscuits!!!
Ingredients
2 1/2 cups baking mix
5 tablespoons Bella Sun Luci Sun Dried Tomato Pesto
3 tablespoon prepared basil pesto
2/3 cup milk\
1/2 teaspoon salt
1/3 cup all-purpose flour (for rolling out dough)
2 ounces cream cheese, softened
2 ounces goat cheese, softened
2 ounces pine nuts, toasted
Directions
Preheat oven to 425.
Mix first 5 ingredients together by hand or in a food processor until evenly mixed. Turn dough out onto a lightly floured surface and roll dough to 1/2″ thick. Cut into 2 1/2″ circles with a cutter (remember Chef Richie Says to get heart-shaped cutters!) or glass rim. Place biscuits on an ungreased cookie sheet and bake 10-15 minutes or until golden.
In a small bowl, mix together the cream cheese and goat cheese until combined. Let biscuits cool 10 minutes and top with cheese mixture and sprinkle pine nuts evenly over all.
Makes 12-16 biscuits.
Happy cooking and buon appetito! Con amore,
Chef Richie Hirshen, Corporate Chef
Mooney Farms and Bella Sun Luci. Chico, CA