In Honor of National Zucchini Day August 8th
Less than thirty years ago, the zucchini, formerly often referred to as green Italian squash, was hardly recognized in the United States.
Today, it is not only widely recognized, but a particular favorite of home gardeners. Notwithstanding its prolific growing nature, its popularity is probably due to in large part to its versatility as a vegetable as well as in breads and desserts.
Zucchini, Cucurbita pepo, is a member of the cucumber and melon family. Inhabitants of Central and South America have been eating zucchini for several thousand years, but the zucchini we know today is a variety of summer squash developed in Italy.
The word zucchini comes from the Italian zucchino, meaning a small squash. Christopher Columbus originally brought seeds to the Mediterranean region and Africa.
Although the term summer squash can mean a variety of different squashes depending on to whom you are speaking, you can pretty much use the different summer squash varieties interchangeably.
Here's our favorite zucchini & sun dried tomato recipe!
Mediterranean Quiche
2 tablespoons unsalted butter
1 cup sliced yellow onions
1 medium zucchini, chopped
1/4 pound mushrooms, wiped clean and sliced
1 teaspoon minced garlic
4 ounces oil-packed sun-dried tomatoes, drained and chopped
3 tablespoons chopped fresh basil
2 teaspoons chopped fresh thyme
1/2 teaspoon salt
1/4 teaspoon freshly ground black pepper
3 large eggs
1 1/4 cups half-and-half
1/2 cup grated parmesan cheese
1/2 teaspoon crushed red pepper
1 ready-made pie crust
3 ounces goat cheese, crumbled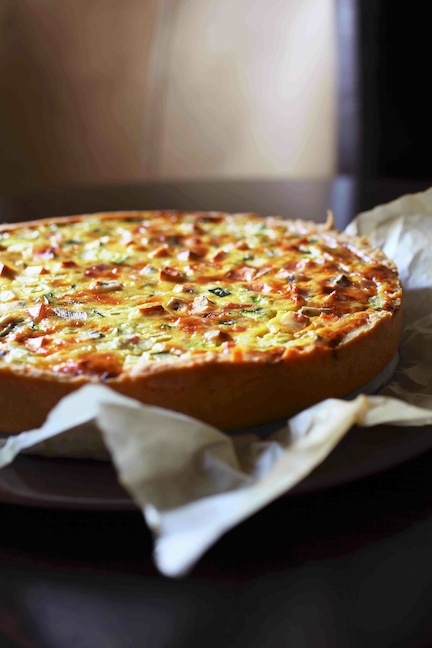 Directions
Preheat the oven to 375 degrees F. In a large skillet melt the butter over medium-high heat. Add the onions and zucchini and cook, stirring, for 6 minutes. Add the mushrooms and cook, stirring, until the liquid is rendered and the vegetables are wilted, about 10 minutes. Add the garlic and cook for 1 minute.
Add the tomatoes, basil, and thyme and season lightly with salt and pepper. Cook, stirring, for 1 minute. Remove from the heat and let cool.
In a bowl, beat the eggs and half-and-half together. Add the salt, pepper, grated parmesan, and crushed red pepper.
Spoon the vegetable mixture into the prepared piecrust, pour in the egg mixture, and crumble the goat cheese on top. Bake for 25 to 30 minutes until set. Remove from the oven and let cool for 30 minutes before serving.