Sun Dried Tomatoes and Greens ~ A Match Made in the Garden
Chef Richie here…at your service!
This past week, Bella Sun Luci and Cut N Clean Greens came together to create four harmonious dishes featuring sun dried tomatoes and assorted greens. The combination of these super foods was so delicious that the two brands will be creating a co-marketing campaign to hit grocery store shelves soon.
I had a great time creating these dishes and I hope you'll enjoy them as much as I did!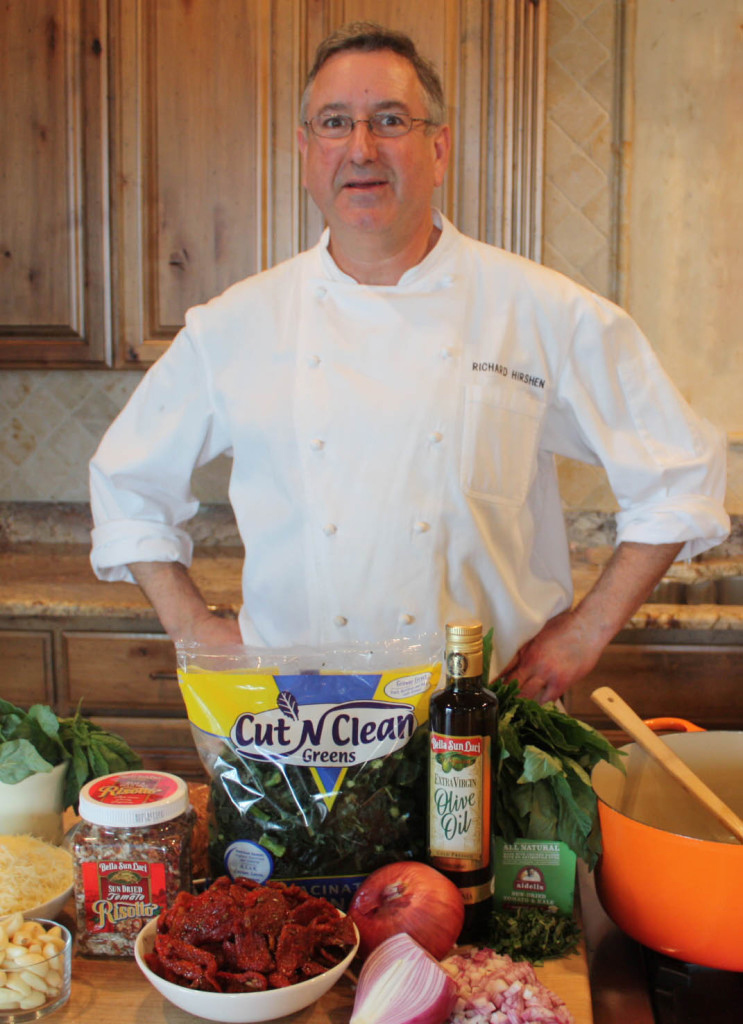 Roasted Butternut Squash, Sun Dried Tomatoes and Euro Greens
After cubing your butternut squash, spread it across a baking pan, drizzle with olive oil, sprinkle with salt and pepper and lightly toss.
Bake at 400 for 25-30 min until squash is tender.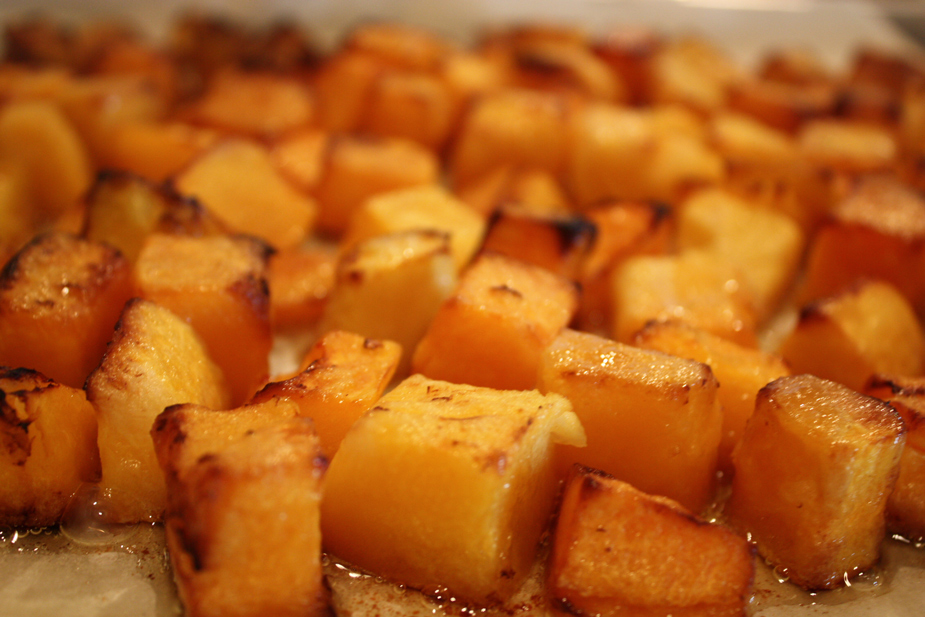 On a serving dish, plate the Euro Greens and Bella Sun Luci sun dried tomato halves around the edge of the platter.
Add the butternut squash to the middle of the platter and serve warm.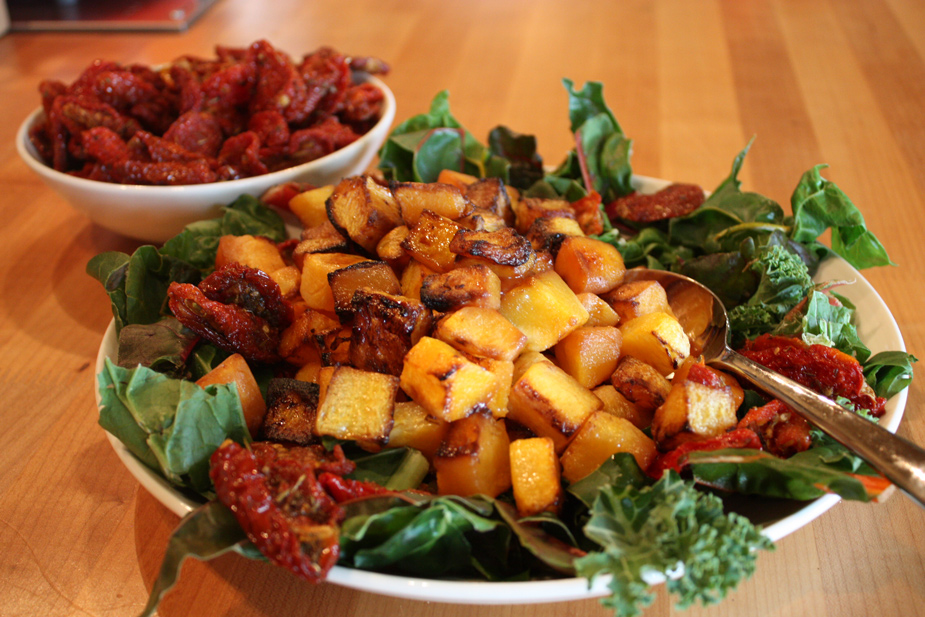 Tuscan Kale, Sun Dried Tomato and Portobello Risotto with Kale-Sun Dried Tomato Sausages
For this recipe you will need the following ingredients:
4 Aidells Kale-Sun Dried Tomato Sausages
1 TB Bella Sun Luci extra virgin olive oil
1/4 cup red onion, sliced thin
1 portobello mushroom, inside fins removed, large diced
1 cup Bella Sun Luci Risotto
1/2 cup Bella Sun Luci sun dried tomatoes julienne cut
1 bag Cut N Clean Tuscan Kale
1 quart chicken (or veggie) stock
Salt to taste
2 oz butter
1/4 cup shredded (or grated) parmesan
Roast the sausages in a preheated 500 degree oven for about 10 minutes. Set aside. When they are warm, slice them on the bias. Set aside and keep warm.
Heat the chicken stock in a separate pan until to a boil and then reduce to a simmer.
On a high flame in a heavy bottom sauce (risotto) pan:
Sauté the onion in the olive oil to just translucent, about 1 minute.
Add the portobellos and sauté one more minute.
Add the risotto mix and sauté one more minute.
Add about ½ tsp salt here.
Add about 1/3 of the stock…enough to cover the risotto mixture by an inch. Continue to add ladles of hot stock as the stock get absorbed, about every 3-4 minutes, stirring virtually constantly.
After 16 minutes of stirring, add the kale and sun dried tomatoes.
Stir 2 more minutes (so 18 minutes total), remove from the flame, add the butter and parmesan and stir to just incorporate.
Check and if necessary, adjust the salt
Add a touch of stock at this point if the risotto is tight/stiff to make it "soft", but not soupy.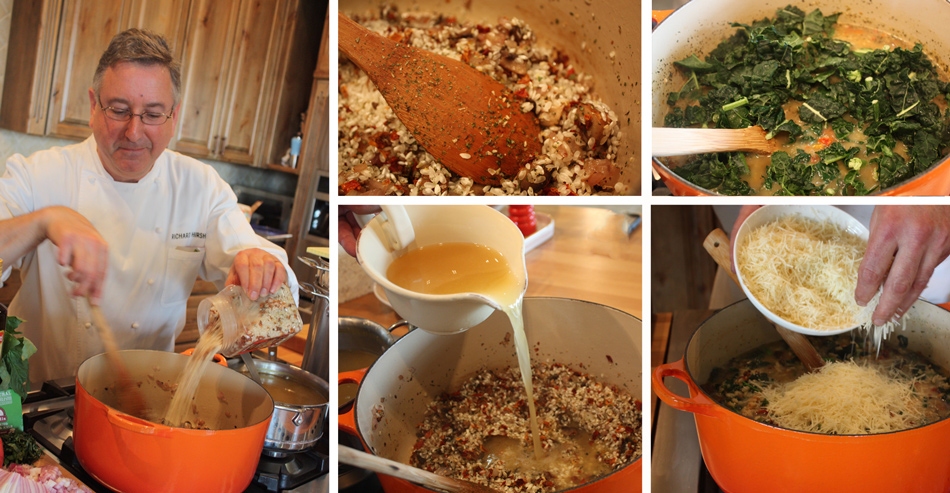 Arrange the sausages around the outside edge of your platter.

Pour the risotto in the middle and serve family style, or as a buffet item.
Iron Man Spinach & Beet Greens Mediterranean Chef Salad with Sun Dried Tomatoes
Chef salad has met it's match with this Mediterranean version of the traditional menu favorite. Cut N Clean Greens Iron Man mix of Spinach and Beet Greens adds a whole new level of health and flavor, along with Bella Sun Luci sun dried tomatoes and a few other delicious additions, this outdoes traditional chef salad by a land slide.
12 slices bacon, diced and cooked crispy, drippings saved with the pieces
1 ounce good quality balsamic vinegar
1 8 oz package Cut N Clean Iron Man mix with spinach and beet greens
1 3.5 ounce bag Bella Sun Luci sun dried tomatoes with Greek oregano, basil and garlic
4 ounces crimini mushrooms, sliced
½ large red onion sliced very thin into half moons
1 small jar pitted green Greek olives, drained
1 cup feta crumbles
2 hard boiled eggs, rough chopped
2 oz Bella Sun Luci extra virgin olive oil
Salt (light, it's already in the bacon and feta) and fresh cracked pepper to taste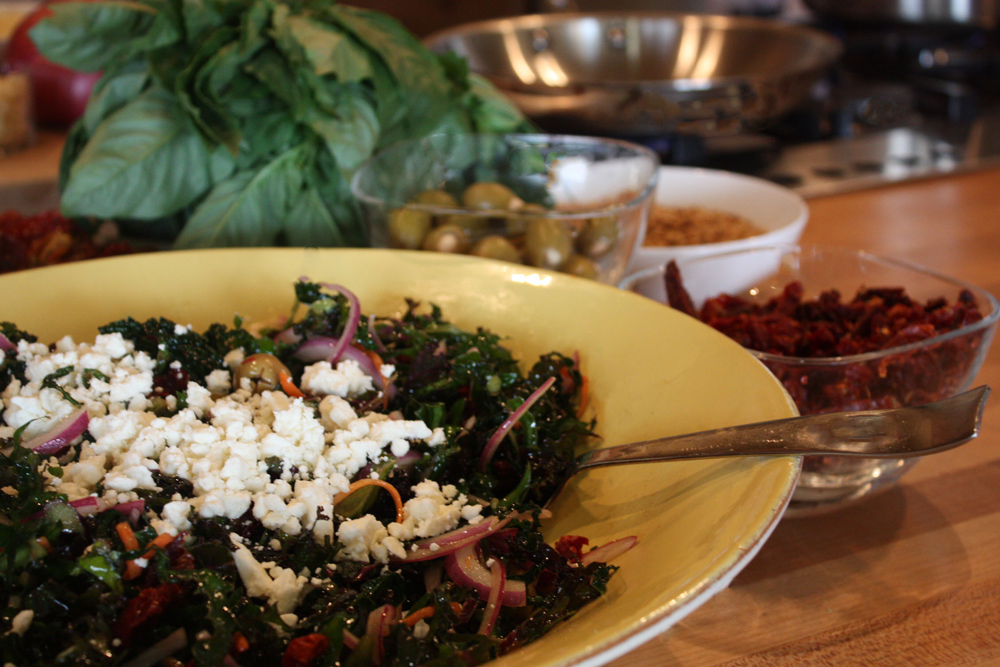 To create the salad dressing, add the balsamic vinegar to your pan of cooked bacon.

This will be the salad dressing.

Next, layer each ingredient, beginning with the greens and ending with the dressing, then toss lightly so that the "goodies" stay close to the top.
Et Volia!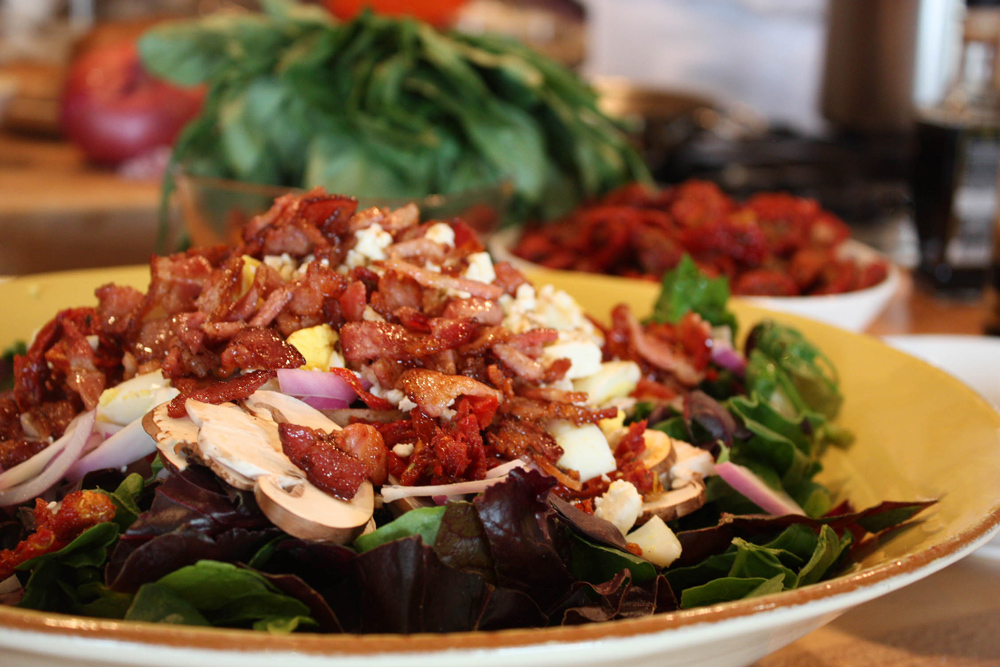 Sausage, Portobello, Euro Greens and Sun Dried Tomato Penne Pasta
1 pound penne pasta, cooked according to package directions
2 large Portobello mushrooms, fins removed, roasted to soft with 1 TB of the olive oil, then sliced
8 Aidells kale-sun dried tomato sausages, roasted then sliced on the bias
5 ounces (half bag) Cut N Clean Euro Greens (mix of kale, chard, turnip greens and mustard greens)
2 cups chicken stock
1 bag Bella Sun Luci Zesty Pepper sun dried tomatoes julienne cut
1 red onion, diced
¼ cup chopped garlic
5 TB Bella Sun Luci extra virgin olive oil (1 TB + 2 TB + 2 TB)
½ cup shredded parmesan
¼ cup toasted pine nuts
¼ cup fresh basil chiffonade
Salt and fresh cracked pepper to taste
Roast the mushrooms in the oven at 400 degrees F for 20-25 minutes until soft. Half-way through cooking the mushrooms, on a separate roasting pan, add the sausage to the oven.
On the stove, boil your pasta water and cook pasta until al dente.
In a saute pan, sauté the onions to translucent in 2 TB of the olive oil, then add the garlic and sauté one more minute.
In another pan, sauté the greens in the chicken stock for 2 minutes and then add to your saute pan with the garlic and onion, along with the mushrooms, sausages and cooked pasta noodles. Lightly toss these ingredients and remove to a serving bowl.
Sprinkle the Parmesan cheese, toasted pine nuts and basil over the top of the bowl and drizzle with olive oil. Enjoy!