Chipotle Fiesta Appetizer Board
Overview
Brighten up your board for your next celebration and take it southwest where sweet heat meets the robust flavor of sun dried tomatoes! Included in this recipe we added our fan favorite guacamole and zesty taco cups. We love how this board pushes the limit to give chefs full creative customization over the recipe. Add in your favorite veggies or Spanish style dips, just don't forget to spread on the sweet and smokey flavor of our Sun Dried Tomato Chipotle Sauce for a unforgettable flavor in every bite!
Total Cook Time: 30 minutes
Serves: 10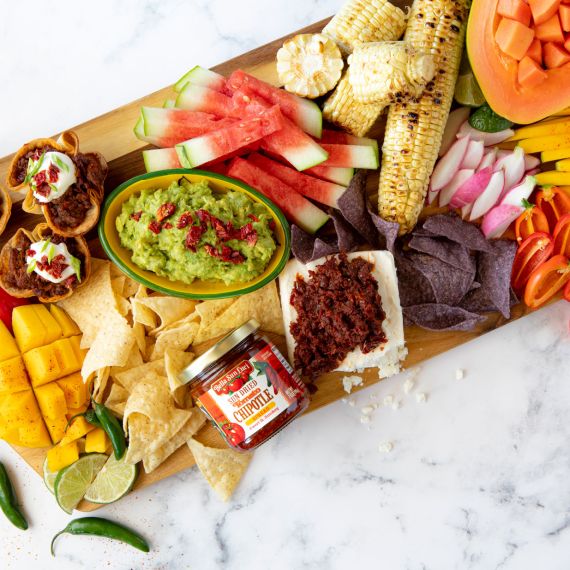 Ingredients
1 7oz jar Bella Sun Luci Sun Dried Chipotle Spread
1 block cojita cheese
1 bag corn tortilla chips (we opted for blue and white corn)
2 fresh limes, quartered
1 fresh mango
1 fresh papaya
3 corn cobs, grilled and quartered
½ c fresh radishes, quartered
1 c mini sweet peppers, halved lengthwise
½ c fresh green chilies
½ fresh watermelon sliced
Chile lime seasoning for garnish
Directions
Create Sun Dried Tomato Guacamole
Create Chipotle Taco Cups
Cut mango in half lengthwise and slice as preferred. We cross hatched one side and inverted the rind in to make an exciting shape. Garnish with chili lime seasoning.
Cut papaya lengthwise and scoop out the inner seeds until you have a clean bowl shape on both halves. Cut one side of the papaya into roughly 1x1 inch squares and discard the outer rind. Fill the papaya bowl with the papaya pieces.
Place bowl of sun dried tomato guacamole, cojita topped with Sun Dried Tomato Chipotle Sauce, papaya bowl, and taco cups on clean surface or board. Add the remaining ingredients in groups around the board to your liking.