Chipotle Taco Cups
Overview
Bite into the sweet and smokey flavor of chipotle and zesty sun dried tomatoes. These little cups pack bold flavors along with sharp cheddar cheese, fresh green onion, and creamy sour cream. We love the notes of sweet heat this appetizer brings to the table for any fiesta or a taco Tuesday!
Total Cook Time: 30 minutes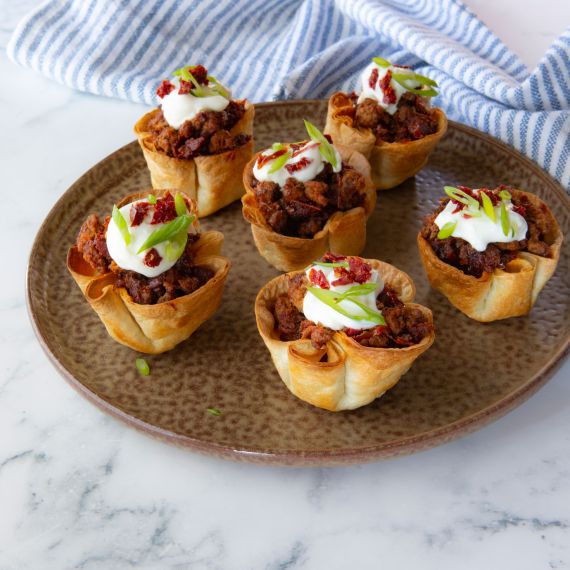 Ingredients
2 lb lean ground beef
2 tsp salt and pepper
12 flour tortillas, cut to 4''x 4'' squares
2 tbsp olive oil
1 c Bella Sun Luci Sun Dried Tomato Julienne Cut Zesty Pepper Bag, Diced
½ c Bella Sun Luci Chipotle Sweet and Smokey
½ c cheddar cheese, finely shredded
½ c sour cream
Fresh green onion, chopped
Directions
Preheat oven to 400 degrees; lightly coat muffin tin with oil, place one tortilla into the bottom of each muffin cup. Bake until golden brown.
Heat oil in pan and add meat with salt and pepper.
Cook meat then stir in the diced Zesty Pepper Sun Dried Tomatoes.
Fill baked tortilla cups with meat half way up.
Top remainder of cup with Chipotle Sweet and Smokey Topper Sauce, shredded cheese, a dollop of sour cream, and garnish with green onion.