Sun Dried Tomato Red Sauce with Fresh Clams and Prawns
Overview
Delicate sun dried tomatoes flavor the prawns and clams weaved in between the al dente linguine making this a perfect recipe!
Total Cook Time: 30 minutes
Serves: 4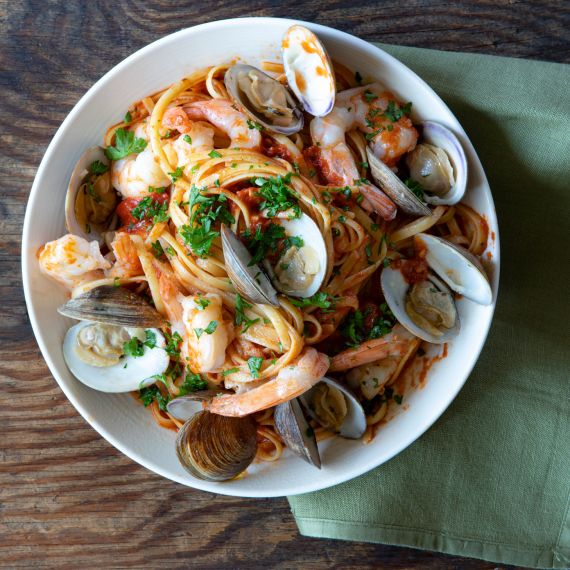 Ingredients
1/2 cup Bella Sun Luci Sun Dried Tomatoes Julienne cut or Halves in oil, oil drained and set aside, sun dried tomatoes pureed and set aside
12-16 oz fresh clams in the shell per portion (48-64 oz total), wash/drain/hold cold
10 large prawns
8 lg garlic cloves, rough chopped
1/2 tsp whole dry oregano
3 oz dry white wine
16 oz crushed tomatoes or tomato sauce
Salt and pepper to taste (light salt as the clams are naturally salty)
Fresh parsley leaves for garnish
Optional: Add 1/4 - 1/2 stick butter to finish sauce
Directions
Over a medium flame in a sauce pan, heat the 16 oz tomatoes and turn to a simmer.
Over a medium flame in a separate large saute pan, heat 2 Tbs of the sun dried tomato oil and sauté the garlic, stirring often until light golden.
Add the oregano, stir 10 seconds, add the clams and prawns then the wine, cover 1 minute then cook uncovered until all of the clams are opened and prawns are not pink.
Discard any unopened clams.
Add the tomatoes and sun dried tomato puree to the clam mixture, season with salt and pepper and serve hot over just-cooked, well-drained pasta (linguine recommended). Garnish with basil (or parsley).