Portobello Mushroom Cap Baked with Sun Dried Tomato Risotto
Overview
Portobello mushrooms are a native food to Italy and have been harvested from the rich soils since ancient times. It is said the word portobello originated from the dialectal Italian pratarolo "Meadow Mushroom" and is known for its superior heath benefits. It is only fitting that this dish be prepared with sun dried tomato risotto to capture so many delicious flavors from the homeland. The tender Portobello mushroom and robust sun dried tomatoes risotto filling makes this meal a great meatless option too. This dish could also be made with cremini mushrooms to create a gourmet appetizer.
Total Cook Time: 45 minutes
Serves: 4
Gluten Free Vegetarian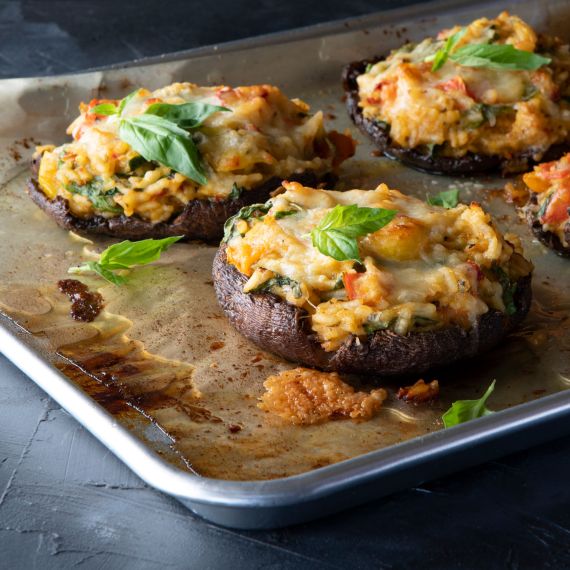 Ingredients
4 portobello mushrooms, stems removed and set aside, fins scooped out and discarded
2 tbsp Bella Sun Luci Extra Virgin Olive Oil for the mushrooms
½ c Bella Sun Luci Sun Dried Tomato Risotto, following the directions on the package
1 c fresh tomato, cored, seeded and large dice
1 c spinach leaves, de-stemmed
1 c shredded mozzarella or swiss
¼ c shredded parmesan (in addition to the little bit you'll need for the risotto)
4 fresh basil leaves for garnish, optional
Salt and pepper to taste
Directions
Preheat the oven to 475 degress F.
Drizzle the olive oil over the portobellos, season and bake on a parchment-lined sheet pan for 30 minutes, flipping after 15 minutes.Remove from oven set aside.
Make the risotto according to the package instructions keeping it al dente.
Stir in the spinach leaves into the risotto then add the fresh tomatoes.
Fill each Portobello cap with the risotto mixture.
Combine the parmesan and mozzarella or swiss and top each risotto-filled Portobello with the cheese mixture.
Return filled mushrooms to the oven and bake about 10 minutes, until the cheese is nicely melted.
Garnish with fresh basil, and serve warm.