Portobello Mushroom Cap Baked with Sun Dried Tomato Risotto
Overview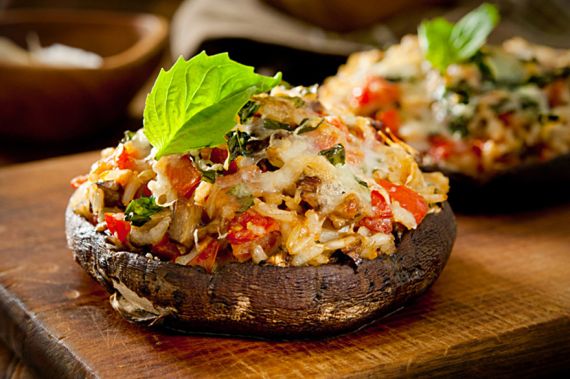 Ingredients
4 portobello mushrooms, stems removed and set aside, fins scooped out and discarded
2 TB Bella Sun Luci Extra Virgin Olive Oil for the mushrooms
Salt and pepper to taste
½ C Bella Sun Luci Sun Dried Tomato Risotto, following the directions on the package
1 cup fresh tomato, cored, seeded and large dice
1 cup clean, de-stemmed spinach leaves
1 cup shredded mozzarella or swiss
¼ cup shredded parmesan (in addition to the little bit you'll need for the risotto)
4 basil leaves/sprigs for garnish
Directions
Preheat the oven to 500, or 450-475 if you're uncomfortable with such high heat.
Drizzle the olive oil over the portobellos, season and bake on a parchment-lined sheet pan for 30 minutes (flip after 15 minutes and check after 25 total minutes…check after 15-20 minutes if you're using a thin cookie sheet).
Make the risotto according to the package instructions (on top of the lid). When it's just done (shoot for 18 minutes for just al dente, 16-18 minutes will work in this case), stir in the spinach leaves so they wilt. Wait 5 minutes then stir in the fresh tomato pieces.
Fill each Portobello cap with the risotto mixture (see photo).
Mix the ¼ cup parmesan with the cup of mozzarella or swiss and top each risotto-filled Portobello with the cheese mixture.
Return to the oven on the sheet pan and bake about 10 minutes, until the cheese is nicely melted.
Garnish with the basil.