Sun Dried Tomato Polenta with Parmesan and Truffle Oil
Overview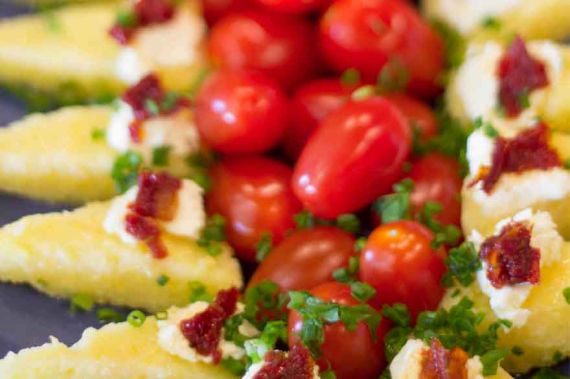 Ingredients
½ cup course corn meal polenta (Golden Pheasant brand, or Bob's Red Mill recommended)
2 cups water
1 tsp kosher salt
About half of an 8 ½ oz jar Bella Sun Luci Sun Dried Tomatoes Julienne Cut in oil *Reserve the oil for the main course
2 TB grated parmesan
1 TB + 1 tsp Urbani white truffle oil
1 very large pinch (about ½ tsp) Urbani white truffle salt
½ small container chives, chopped very finely
Grape tomatoes for garnish
Directions
On a high flame, bring the water with the 1 tsp salt to a boil.
Whisk in the polenta vigorously for 1 minute, turn to medium and continue to whisk 1 minute, turn to low and continue to whisk until the polenta and water are combined and a porridge is simmering.
Keep on a very low flame, whisking occasionally, for 45 minutes.
Remove to a square plastic 1-inch to 2-inch tall container, smooth the top with a spatula and place in the refrigerator for one hour or more.
When cool, remove from container, cut into slices, then triangles and arrange the triangles point out on a platter.
Sprinkle the truffle salt on the triangles then drizzle the truffle oil. Arrange the sun dried tomato juliennes on the thick end of each triangle, sprinkle parmesan and chives all over and fill the center of the platter with grape tomatoes.