Lasagne alla Bolognese with Sun Dried Tomatoes
Overview
Lasagna-alla-Bolognese is a staple meal in the Mooney Family. The creamy ricotta and Parmesan cheese are the true testament of comfort food. We prefer to enjoy this dish accompanied by a green salad, and fresh baguette.
Total Cook Time: 45 minutes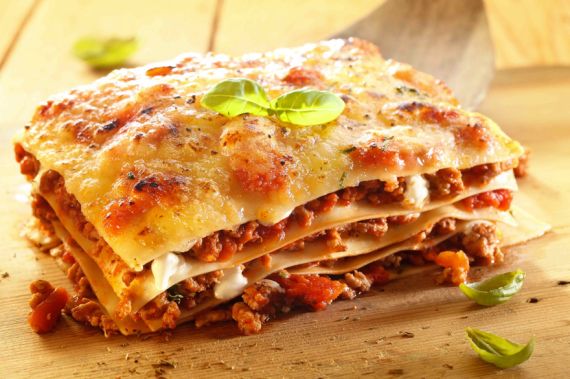 Ingredients
Ingredients for the Bolognese
12oz ground beef and 8oz ground pork, mixed together well in a large mixing bowl
2 tsp dry oregano
1 1/2 tsp salt
1/3 tsp fresh cracked pepper
1 tbsp Bella Sun Luci extra virgin olive oil
1 medium-large yellow onion, finely diced
1 large peeled carrot, finely diced
4 large cloves garlic, minced
1/2 cup good quality white wine
20 ounces crushed or diced tomatoes, not drained
1/2 cup Bella Sun Luci sun dried tomatoes julienne, diced into smaller pieces
Parmesan for grating
Optional: Fresh garden herb sprigs or basil leaves for garnish
Ingredients for the lasagne
2 12-oz boxes lasagne sheets
2 TB Bella Sun Luci Extra Virgin Olive Oil for coating the pasta
2 C ricotta
1 C shredded mozzarella
1 C grated parmesan
1 cube (4 oz) unsalted butter for buttering the pan
¼ cup flour for dusting the pan
2 C béchamel (optional, as a substitute for the butter and flour…)
Basil or any fresh herb sprigs for garnish
Directions
Directions for the Bolognese
In a very large heavy bottom sauce pan, frying pan or Dutch oven, over a medium-high flame, heat the olive oil.
Add the onion, stir often with a wood spoon and fry until golden brown.
Add the carrots, garlic oregano, and salt, then add the meat about an once at a time.
Cook on one side until brown, about 5 minutes. Break the meat up as small as possible and fry 2 more minutes until cooked through.
Add the wine, reducing to about 3/4, turn down to medium, add the tomatoes and stir for 3 minutes.
Turn to low and simmer 50 minutes, stirring often, scraping the sides and bottom of pan with a wooden spoon. Add the sun dried tomatoes and stir/simmer 10 more minutes. Simmer an additional 10-20 minutes if the Bolognese is still loose.
Directions for the lasagne
Cook the lasagne noodles as specified on the package. Do not undercook. Drain, turn onto a baking sheet and immediately coat with the olive oil, using tongs and making sure to coat all of the noodles well.
Preheat the oven to 375.
When the pasta is cool enough to handle, coat your lasagne pan(s)/casserole dish(es) first with butter then the flour (or, if using béchamel, coat the pan(s) with that instead).
Place pasta sheets in the first pan(s) to cover the bottom, add a layer of Bolognese and a layer of ricotta, mozzarella and parmesan. If you have béchamel, use it here.
*Reserve enough parmesan to lightly coat the tops(s) of your lasagne(s).
Repeat this layering process with even amounts of the noodles, Bolognese and cheeses until you've used all of it, with noodles being the top layer.
Sprinkle with parmesan and bake 45 minutes to 1 hour uncovered, until the top layer is golden brown, then cover with a lid, or foil, and bake an additional 15-30 minutes, until the lasagne(s) is/are fully cooked…piping hot in the middle.
Let rest 15+ minutes in order for the lasagne to set so you can cut clean-edged pieces, or, Chef Richie says: "Don't wait! Just have at it!"