Hand Layered Lasagna with Roasted Bell Peppers and Sun-Dried Tomatoes
Overview
This way of making lasagna is a bit different because you make individual portions and finish the baking on each individual plate. This way is simpler, cleaner and not so much a casserole. It's kind of like they're open ravioli. Another way to say it is...DELICIOUS.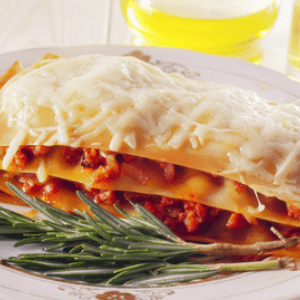 Ingredients
12-16 sheets fresh egg noodles, or packaged lasagna noodles. Three sheets per person (12 sheets total) is a nice portion.
4 large red bell peppers, roasted and peeled (or one 28 oz can roasted red peppers, drained), cut into small pieces. *Note, freshly roasted canned bell peppers give off a lot of liquid. You will want to reserve about 1/2 cup of this liquid and mix it in with the peppers and sun-dried tomatoes.
1 large yellow onion and 4 large garlic cloves, rough-diced and cooked to translucent/ very soft.
1 3.5 oz bag Bella Sun Luci Sun-Dried Tomatoes with Zesty Peppers
1 8.5 oz jar Bella Sun Luci Bruschetta
8 oz Italian four cheese blend (or just mozzarella), split in half
1 oz Bella Sun Luci extra virgin olive oil
Salt and pepper to taste
*Serves 4
Directions
Preheat the oven to 375.
In a large bowl, mix together the bell pepper pieces and liquid, sun dried tomatoes, Bruschetta, salt, and pepper then heat in a sauce pan on a medium flame.
Set aside.
Cook the noodles, drain and remove to a large pan or cookie sheet, using the olive oil to keep them from sticking to each other.
On each oven safe plate, assemble with the lasagna noodles first, then your mixture of cheese, using your the first half (4 oz) of cheese in between the noodles. Repeat.
Cover the top noodles with the remaining half of the cheese.
Bake on the plates about 5 minutes, until the cheese on top is melted.
Garnish with sprigs of rosemary.
Serve immediately and let your guests know that the plates are hot!