Sun Dried Tomato Pesto Asparagus Wraps
Overview
For the seasonal vegetable asparagus to shine we incorporated in some hearty prosciutto alongside our sun dried tomato pesto with pine nuts for added crunch. With a few ingredients and a small amount of effort you will have a rich, creative way too enjoy asparagus all seasonal long. This savory appetizer is perfect for a summer gathering on the patio with a collection of close friends and family. As another delicious option try using our bruschetta spread and toping with freshly grated parmesan cheese.
Total Cook Time: 30 minutes
Serves: 6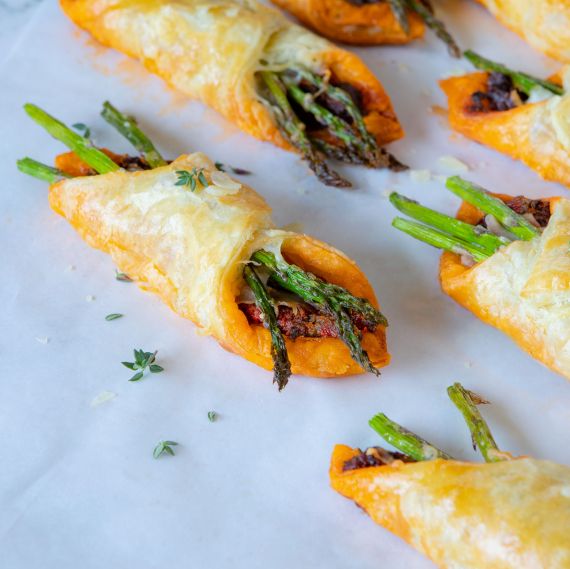 Ingredients
1 bunch fresh asparagus, ended trimmed

1 tbsp Bella Sun Luci Arbequina Olive Oil

2 sheets puff pastry

1/2 c 7oz Bella Sun Luci Sun dried Tomato Pesto with Pine Nuts

8 oz gruyere, shredded

12 slices prosciutto

1 egg beaten

Salt and Pepper
Directions
Preheat oven to 425 F, and line a cookie sheet with parchment paper.

Using a lightly floured surface, lay out the puff pastry and roll out to make a large rectangle shape. Square off the edges of the dough and cut into 6 squares.

Toss asparagus stalks in olive oil and sprinkle with salt and pepper.

Evenly spread the pesto onto dough. Place a piece of prosciutto followed by three to four asparagus stalks topped with cheese. Repeat this process on all 6 squares.

To assemble wraps first fold over one corner of dough over the bundle of asparagus followed by the opposite corner and press to seal. Brush puff pastry with egg wash, and sprinkle with salt and pepper.

Bake until pasty is golden brown, approximately 12-14 minutes. Serve warm.