Classic Sun Dried Tomato Potato Salad
Overview
A recipe passed down by generations of the Mooney Family, a classic potato salad with sun dried tomatoes. A nostalgic food, evoking memories of springtime picnics and summer barbecues.
We add raw chopped celery and dill pickle for crunch, and sun dried tomatoes for added robust flavor. The acidity of the pickle juice and apple cider vinegar gives the prefect zing while the mayonnaise smooths and adds creaminess the texture of the potatoes.
Total Cook Time: 30 minutes
Serves: 6
Gluten Free Vegetarian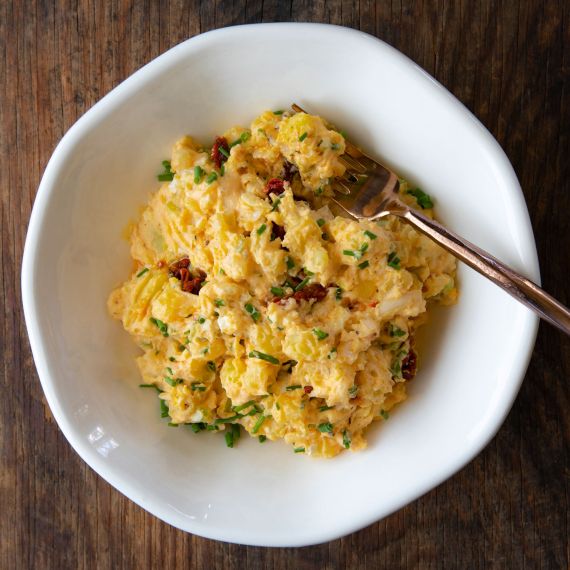 Ingredients
3 lb Yukon gold potatoes
1 c celery, diced
1 tbsp apple cider vinegar
1 c mayonaise
¼ c dill pickle, diced
1 tbsp dill pickle juice
1 tbsp Dijon mustard
3 hard boiled eggs, peeled and chopped
1 c Bella Sun Luci Sun Dried Tomatoes in Olive Oil with Italian Herbs
Salt and Pepper
Fresh chives, finely minced
Directions
Quarter the potatoes and add into a large pot full of cold, salted water. Boil the pot over high heat and cook until tender, approximately 12-15 minutes. Drain the potatoes from the water and set aside.
In a medium sized bowl stir to combine celery, apple cider, mayonnaise, dill pickle, pickle juice, and dijon mustard. Add salt and pepper to taste.
Add in the cooked potatoes to the combination and stir until potatoes are coated.
Fold in the hard boiled egg pieces and sun dried tomatoes to the bowl.
Salt and pepper to taste then cover and refrigerate for three hours. Prior to serving garnish with fresh chives.