Greek Potato Salad
Overview
This is so mediterranean. The Greeks, Italians, Spanish, and French don't use mayonnaise in their potato salads. This recipe calls for olive oil and lemon (this is also the way they make their tuna salad) as the dressing. Light and clean flavors, this is a lovely chilled summer dish, or you can even serve it warm in winter. Also, Bella Sun Luci sun dried tomatoes pair really well with potatoes! Buon appetite!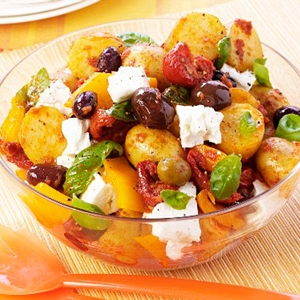 Ingredients
1 lb small golden potatoes ¼ inch slices
1 cup Bella Sun Luci sun dried tomato halves, reserve oil for dressing
1 cup sliced seedless cucumber
½ cup sliced red onion
1 cup cubed feta cheese
½ cup black and green Greek olives
fresh basil leaves to garnish
tbsp lemon juice
2 cloves garlic, crushed
2 sprigs fresh oregano leaves, diced
salt and pepper to taste
*Serves 1
Directions
Place potatoes in 2 quart saucepan.
Add approximately 2 inches of water.
Cook, covered until tender, for approximately 12 minutes.
Do not overcook.
Combine Potatoes, sun dried tomatoes and cucumber in bowl.
Arrange onion, cheese, olives, and fresh basil.
Mix together reserved olive oil, lemon juice, garlic, oregano, salt and pepper to taste.