Sun Dried Tomato and Fresh Oregano Soup
Overview
The sun dried tomatoes in this recipe make the flavor of the soup richer and deeper. You can use any fresh herbs if you don't have oregano. The classic, basil, always works well. Like the panzanella (bread salad), this soup is also great with chunks of days old bread in soaking up the soup's flavor and literally making it chewy.
Total Cook Time: 30 minutes
Gluten Free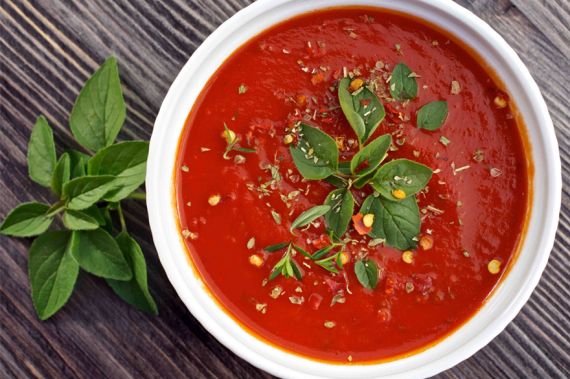 Ingredients
⅔ cup Bella Sun Luci sun dried tomatoes julienne cut or halves in oil, oil drained and set aside, sun dried tomatoes pureed and set aside
1 lg garlic clove, rough chopped
4 oz dry white wine
8 oz chicken (or veggie) stock
28 oz crushed tomatoes or tomato sauce
1 TB fresh oregano leaves, plus more for garnish
Salt and freshly cracked black pepper to taste
Directions
Over a medium flame in a large sauce pan, heat 1 TB of the sun dried tomato oil and sauté the garlic, stirring often until light golden.
Add the salt and pepper then the wine and reduce until ½-1 oz liquid remains.
Add the stock, the 28 oz tomatoes and sun dried tomato puree, heat to simmering, turn to low and simmer 10-15 minutes stirring often. At this point, add the oregano leaves and season to taste.
Cool to room temperature, puree until very smooth then reheat when you're ready to serve.
Garnish with the oregano sprigs.