Italian Garbanzo Bean Sun Dried Tomato Soup
Overview
This soup has almost a pasta like texture, while retaining lots of Italian personality. Garlic, rosemary, and Bella Sun Luci sun dried tomatoes add character, and the spicy kick that comes from the chile flakes takes you all the way down to the heel of the boot, that is of southern Italy. In other words, it's kickin,' And it is super healthy for those of us watching our peso, weight in Italian.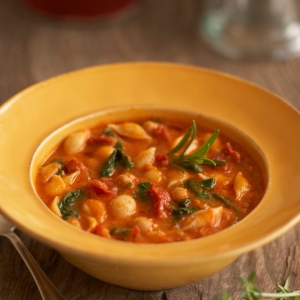 Ingredients
1 cup small pasta shells
1 ½ tbsp olive oil
1 small yellow onion, chopped
1 small bulb garlic, chopped
1 tsp dried rosemary or 2 Tbsp. fresh rosemary
½ tsp dried red pepper flakes
1 tsp. sugar
1 - 11.5 oz. can tomato juice
1 tbsp balsamic vinegar
½ cup Bella Sun luci julienne Cut Sun Dried Tomatoes in oil, drained
2 - 16 oz. cans garbanzo beans, drained and divided
1 - 6 oz. bag baby spinach
Salt and peper to taste
Serves 10
Directions
Cook pasta according to directions. At the same time, in a medium saucepan, heat oil over medium heat.
Add onion, garlic, rosemary, red pepper flakes, and sugar.
Add Tomato juice, balsamic, 3 cups water tomatoes, and garbanzo beans, reserving 1 cup whole beans.
Bring to a boil, stirring occasionally, then reduce heat, cover and simmer for 7-10 minutes.
Puree half of the vegetable mixture in a blender or food processor and return to saucepan.
Add pasta and remaining whole beans and spinach to mixture and heat through.
Season to taste with salt and pepper.