Cream of Butternut Squash Soup with Sun Dried Tomatoes
Overview
The butternut squash-Bella Sun Luci sun dried tomatoes combination has been a favorite of mine for decades. I do a butternut mash that I flavor with sun dried tomatoes, lots of fresh herbs and then serve on whole wheat toasts. Always a hit with the in crowd. The recipe for this soup is a simple and professional variation. The cream really smoothes out and marries the flavors.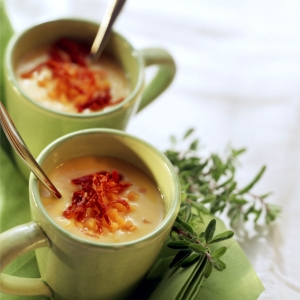 Ingredients
1 ¾ - 2½ cups precooked butternut squash (see directions)
1 med - lg carrot, peeled, small dice
1 sm - med yellow onion, small dice
1 med - lg garlic clove, root end removed, minced
1 - 2 tbsp Bella Sun Luci sun dried tomatoes, julienne, ready to eat
2 tbsp Bella Sun Luci extra virgin olive oil
½ - ¾ cup heavy (whipping) cream
2-3 cups vegetable or chicken stock
Salt and ground pepper to taste
1½ - 2¼ level tsp brown sugar
Optional/recommended: Parchment paper for roasting the squash
Serves 5
Directions
Preheat oven to 375.
Cut the top and bottom off a small butternut squash so the orange is fully showing on each end. Discard the ends. Cut the squash in half long ways.
With a thin soup spoon, scrape out the seeds and membrane and throw away.
Drizzle 1 Tbs olive oil over squash and then sprinkle the brown sugar and some salt and pepper on the top and bottom of the squash.
Place on a (parchment lined) heavy sheet pan face down and roast on the middle rack for 45 minutes.
Turn over and roast an additional 15-30 more minutes, or until very soft.
Remove from oven and let cool, until cool enough temperature to peel. Discard the peel and measure the amount of squash you need. Set aside.
While the squash is roasting, heat the stock to a simmer on a back burner.
Put a heavy bottom soup pot (2-3 qt size or bigger) on a front burner, on a high flame.
Add the other Tbs olive oil, heat then add the onion. Sauté 4-6 minutes, stirring often, until golden.
Add the carrots and celery, turn to med-high and sauté/stir for 5 more minutes.
Add the garlic, salt and pepper, turn to low and sauté 5-10 more minutes, or until soft, stirring often. Add the cream, turn to medium, bring to a simmer; next turn to low, simmer, 5 minutes. Add the stock, turn to high, bring to a simmer. Add the squash and stir.
Hold the sun dried tomatoes and your soup cups separately in a warm place.
Carefully, in small (1-2 cup) batches, puree the soup.
Taste and adjust seasoning. Serve hot, and garnish with the sun dried tomatoes.
Note: if the soup is thin, add a few Tbs of squash to some of the soup and re-puree, but don't let it get too thick. The leftover roasted squash can be used on crostini, in pasta, etc.