Sun-Dried Tomato Cream Soup
Overview
Simple, quick and easy, this recipe's sun dried tomatoes add personality and compliment the richness of the cream in this recipe. Add extra fresh basil at the end for a summery kick.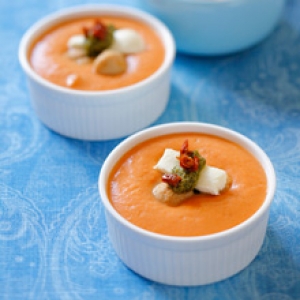 Ingredients
¾ cup Sun Dried Tomatoes in Olive Oil, Drained
2 cups Tomato Juice
2 cups Whipping Cream
½ tsp Salt
¼ tsp Freshly Ground Pepper
Fresh basil for garnish
Serves 1
Directions
Combine drained Sun Dried Tomatoes and 1 Cup of Tomato Juice in blender and puree to a smooth consistence.
Add remaining cup of tomato juice and mixture from blender to a large saucepan; bring to a boil. Remove from heat and add remaining ingredients.
Cook over low heat until thoroughly heated, do not boil.
Yields 3½ cup servings.