Swordfish and Prawns with Sun Dried Tomato Bruschetta and Basil
Overview
This super simple, quick and easy recipe has only six ingredients in addition to salt and pepper. The rich and nutty sun dried tomato bruschetta, the fresh garlic and basil make this dish unmistakably Italian. Possible adds, with you as the chef: a squeeze of fresh lemon and, if you lean toward southern Italian, some fresh or dried chile peppers.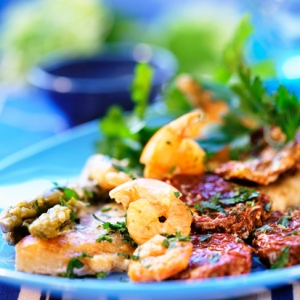 Ingredients
16-24 oz swordfish
12-18 prawns, shell and tail off
8 1/2 oz Bella Sun Luci sun dried tomato Bruschetta
3 oz Bella Sun Luci extra virgin olive oil
5 garlic cloves
12 basil leaves, picked off the stem
Salt and fresh cracked pepper to taste
Serves 5
Directions
If the swordfish skin is on, remove and discard the skin.
Cut into equal half inch thick slices
Season each piece and set aside.
Season the prawns and set aside.
Finely chop/mince the garlic and set aside.
Slice basil leaves very thinly into strips. Set aside.
In a large saute pan or two, preferably non-stick, pour in half of the oil and turn on high. Place the swordfish pieces flat in the pan, top them with half of the bruschetta, cook 1-2 minutes, turn over, cover with the remaining bruschetta, add the remaining oil, garlic and prawns to the pan and cook 1-2 more minutes, until the fish is slightly firm and the prawns are just cooked through.
Garnish with the basil and serve.