Smoked Salmon-Cucumber Rounds
Overview
Clean, light and simple with a touch of sophistication from the sun dried tomatoes. These little rounds of bursting flavor are the perfect accompaniment to a dinner party appetizer or a light snack.
Total Cook Time: 15 minutes
Serves: 5
Gluten Free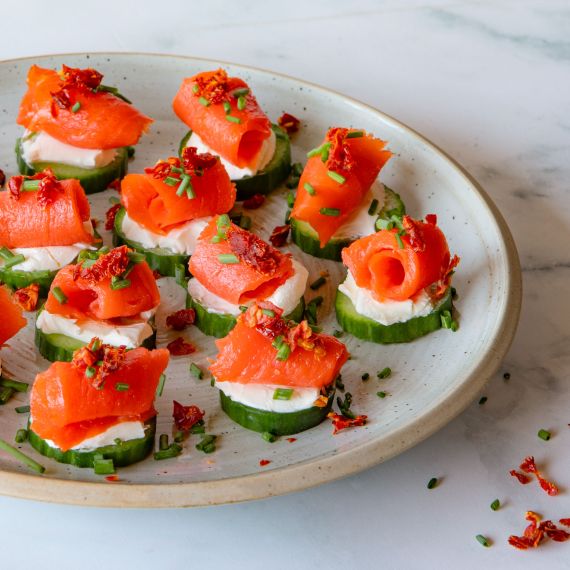 Ingredients
1 English cucumber, peeled in a white-green stripe pattern and cut into 1/4 inch thick rounds
1 package wild Alaskan smoked sockeye salmon, thin sliced nova lox style
1 8 oz package cream cheese spread
1/4 c Bella Sun Luci Sun Dried Julienne Cut Tomatoes with Italian Basil
3 small chives finely sliced for garnish
Directions
Finely dice the sun dried tomatoes and add it to a bowl of soften cream cheese. Mix until combined.
Top each cucumber round with a quarter sized spread of the cream cheese mixture. Set aside.
Cut the slices of lox from top to bottom, making pieces about the size of the cucumber rounds. Roll these up and place each on top of the spread.
Garnish the rounds by sprinkling the chopped chives and sun dried tomatoes abundantly.
Serve immediately or chill until serving.