Sun Dried Tomato, Olive, and Bell Pepper Cake with Goat Cheese
Overview
This savory with a hint of sweet "torta" is a fun way to have your cake and eat it too. In fact, it's a cheesecake in a way. Either with the creamy goat cheese, or by substituting cream cheese, Its layers of Mediterranean flavors are a celebration. You may want to put some candles in it and make a wish!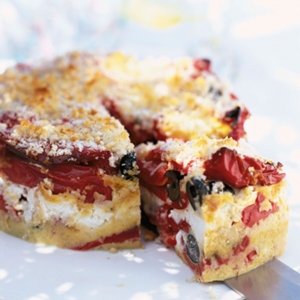 Ingredients
3½ cup all-purpose flour and 1.5 tbsp for greasing/lining the pan
2 ½ tsp sea salt
1½ tsp sugar
2 tsp baking powder
5 eggs
1 cup and 2 tbsp whole milk
2 tbsp Bella Sun Luci extra virgin olive oil
1 cup buter, softened and 1 tbsp not softened for greasing pan
1 8.5 oz Jar Bella Sun Luci Sun Dried Tomatoes, halves
1½ Cup black pitted olives
1 cup roasted red bell peppers
1 log aged goat cheese
½ cup grated parmesan or other hard cheese
Serves 24
Directions
Preheat oven to 350º placing the rack in the center.
Grease and flour three 8x2 round cake pans.
Combine flour, salt, and baking powder. Set aside.
With an electric mixer blend eggs and sugar for 30 second on low.
Add the butter and olive oil. Then alternate adding milk and the flour mixture to the blender, until both is completely used.
Once mixture is completely blended, pour the batter into the three pans equally filling only the bottom of each pan.
Sprinkle each pan with ⅓ of the sun dried tomatoes, olives, bell peppers, and goat cheese.
Top with grated parmesan cheese and bake for approximately 25 minutes, or until a toothpick comes out clean.
Cool before moving to a wire rack.