Mediterranean Potato Pancetta Cakes
Overview
This recipe contest finalist is a perfect brunch menu item. The variety of flavors and textures combined with a fried egg, some cheese and Italian bacon (pancetta is a sweeter bacon) is my idea of perfection...the perfect way to, after sleeping in, lazily start your day. Enjoy this crispy, luscious and delicious treat from the Italo-Americano repertorio.
Total Cook Time: 15 minutes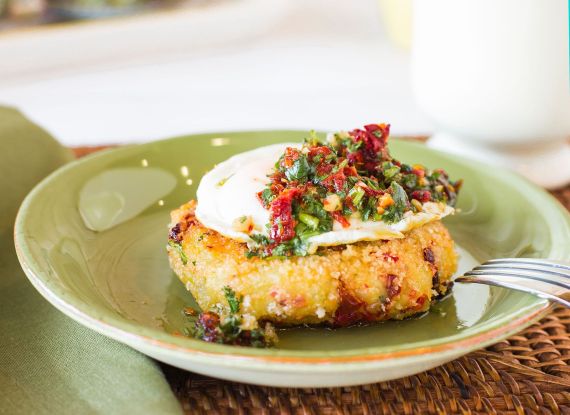 Ingredients
Sun Dried Tomato Chimichurri
⅓ cup very finely chopped fresh flat-leaf Italian parsley
¼ cup Bella Sun Luci Extra-Virgin Olive Oil
3 tablespoons finely chopped Bella Sun Luci Julienne-Cut Sun Dried Tomatoes in Olive Oil with Italian herbs
1 tablespoon red wine vinegar
¼ teaspoon kosher salt
⅛ teaspoon grated fresh garlic
⅛ teaspoon crushed red pepper flakes
Potato Pancetta Cakes
1½ pounds Russet potatoes, peeled, cubed and boiled until just tender (Do NOT overcook!)
1 (3 ounce) package Bella Sun Luci Sun Dried Tomatoes with Greek Oregano, Basil and Garlic, slightly chopped into smaller pieces
4 ounces diced pancetta, cooked until crispy and browned (bacon may be substituted)
½ cup (2 ounces) shredded Mozzarella cheese
½ cup (2 ounces) shredded Parmesan cheese
1⅓ cups panko bread crumbs—divided use
2 tablespoons chopped fresh flat-leaf Italian parsley
1 large egg, beaten
2 tablespoons Bella Sun Luci Extra-Virgin Olive Oil
2 tablespoons salted butter
4 large eggs, fried sunny-side up
Directions
To prepare chimichurri, place parsley, oil, sun dried tomatoes, vinegar, salt, garlic, and red pepper flakes in a medium bowl; mix well. Set aside.
To prepare cakes, place cooked potatoes in a large bowl; mash until almost smooth. Add sun-dried tomatoes, pancetta, cheeses, ⅓-cup panko, and parsley; mix well. Add egg and stir until well blended.
Form potato mixture into eight (3½- inch wide) flat cakes. (Rubbing olive oil on hands first will help keep potato mixture from sticking to hands.) Place remaining panko crumbs on a plate. Place a potato cake in crumbs, coating both sides well. Repeat with remaining cakes and crumbs.
Heat a large nonstick skillet over medium high heat; add oil and butter and swirl to melt butter. Place potato cakes in skillet. Turning once, fry over medium to medium-high heat until golden brown and crispy on both sides, about 12 minutes.
To plate, place 2 hot potato cakes on four individual serving plates. Top each serving with a hot fried egg. Drizzle with chimichurri. Serves 4.