Mini Risotto Cakes with Sun Dried Tomatoes and Garlic Spinach
Overview
These bite-size morsels are great by themselves, as a unique, crunchy, delicious appetizer, or as a blank slate, meaning go ahead and add steak, or chicken, or prawns, or any seafood and turn it into a main course. If you ever have leftover risotto, this is exactly what to do with it, or make it from scratch. One tip, make sure that your finished risotto is dry-ish, not loose (cook the stock out), and/or, add an egg and a tablespoon or two of flour to act as a binder. Buon appetito!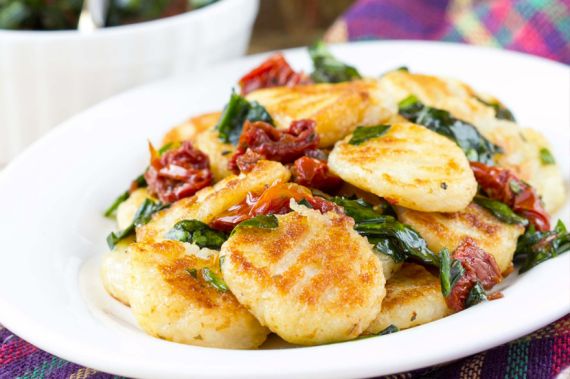 Ingredients
1 cup Bella Sun Luci Sun Dried Tomato risotto mix
2 tsp Bella Sun Luci Extra Virgin Olive Oil
2 tbsp fresh yellow onion
5 - 6 cup chicken (or vegetable) broth
1 tbsp butter
1 tbsp grated parmesan
2 cup fresh baby spinach, destemmed, washed and dried
2 large cloves garlic, minced
2 - 3 oz Bella Sun Luci Sun Dried Tomatoes Julienne Cut in Extra Virgin Olive Oil
Sea salt and cracked black pepper to taste
Directions
In a sauté pan on a medium-high flame, heat the butter, sauté the garlic 30 seconds (so it is still light in color), turn the flame to low then add the spinach and cook quickly to just wilted. Turn onto a plate, spread out and cool to room temperature.
In a saucepan, heat the stock to boiling, and turn to a simmer.
When simmering, in a separate heavy bottom saucepan or Dutch oven, heat 1 tsp of the olive oil on a medium high flame. *If using fresh onion, add here and sauté 60 seconds. Add the risotto mix and sauté 60 seconds, add 1 cup of the broth and turn to medium. Stir constantly for 3 minutes, and add 1 ladleful (about 5 oz) hot stock every 3-5 minutes (as it gets absorbed), continuing to stir often/constantly. After 20 minutes, and all of the stock is absorbed, turn off the flame, add the grated parmesan and stir in. Turn risotto onto a baking sheet (or any large flat dish) so the risotto is of uniform thickness. Cool to room temperature then refrigerate until cooled all the way through.
Preheat the oven to 450. With a round cookie or biscuit cutter (or a small-rimmed glass), cut out your round risotto cakes. Take the remaining risotto from in between the round cakes, lightly mash together and cut those into cakes until all you have is cakes. Place the cakes onto a parchment paper lined baking sheet, brush the remaining 1 tsp olive oil onto the cakes and bake 15 minutes or until golden colored.
In a sauté pan on the stove, season and sauté the garlic and the spinach, platter the cakes and "garnish" with the garlic spinach and sun dried tomatoes.