Garbanzo Beans with Sausage, Sun Dried Tomatoes and Parsley
Overview
This dish is so Italian. Simple, with clean and earthy flavors. Make it with spicy sausage and it instantly becomes Southern Italian. Great as an appetizer or side dish, it's also fabulous at breakfast or brunch next to scrambled eggs, or in an omelette.
Total Cook Time: 30 minutes
Gluten Free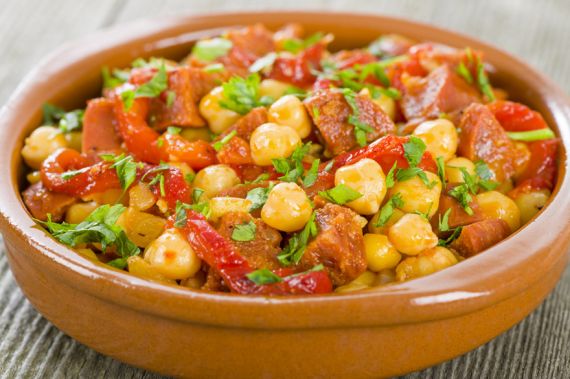 Ingredients
2 cups garbanzo beans, drained of any liquid
4 Italian sausages, roasted and sliced (substitute chicken sausage if desired)
2 large whole garlic cloves, minced
1 tbsp Bella Sun Luci Arbequina olive oil
1 - 8.5 oz jar Bella Sun Luci sun dried tomatoes julienne in oil (use the oil in this dish)
⅛ bunch Italian flat leaf parsley, rough chopped
Salt and pepper to taste
Directions
Cook your garbanzos according to the package's instructions, or use canned (a 15-ounce can is fine).
Heat in a sauce pan with the garlic. Toss in the sliced sausage and sun dried tomatoes with their oil.
When heated through, remove to a bowl and toss with half of your chopped parsley and the olive oil.
Taste and adjust seasoning.
Top with the remaining parsley.
Note: This dish is wonderful hot, or room temperature as a side dish.