Parmesan, Pancetta, Bell Pepper, Sun Dried Tomato, and Garlic Toasts
Overview
Ah, another favoloso recipe based on the 'P's'...Parm, Pancetta, Peppers, Pomodori (tomatoes) and Pane (bread). These cute, precious toastettes make lovely antipasti...appetizers...but slap two of them together and you've got a Princely, Pleasureful Panino.
Total Cook Time: 15 minutes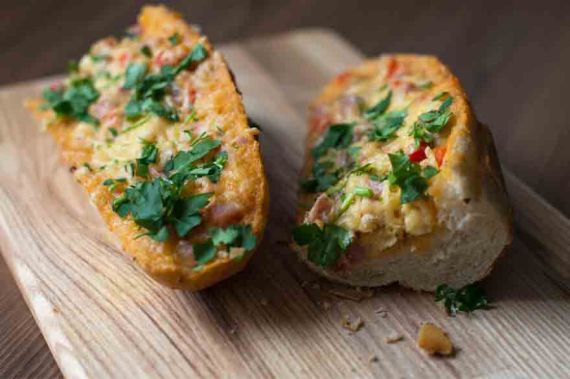 Ingredients
1 crusty baguette, preferably sourdough, cut in half on the equator and then into 2-3-ish inch long pieces
¼-½ cup Bella Sun Luci Extra Virgin Olive Oil
4-6 garlic cloves finely minced
2-3 tbsp Bella Sun Luci Sun Dried Tomato Halves, diced small
2-3 tbsp Roasted red bell peppers, diced small
2-3 tbsp diced pancetta, slow cooked on the stove for 3-5 minutes
¼-½ cup grated Parmesan cheese (shredded is ok, but grated is better)
Salt and fresh cracked black pepper to taste
6-8 sprigs Italian flat leaf parsley, rough chopped
Directions
Preheat the oven to 450°F.
Brush the bread with the olive oil, then top with garlic, sun dried tomatoes, bell peppers, pancetta, Parmesan and salt and pepper.
Bake for 7-10 minutes, until the bread is toasted and browning on the edges, and the cheese is melted.
Top abundantly with the parsley.