French Bread Pizza with Sun Dried Tomato Bruschetta
Overview
When you need fun, flavorful, quick cuisine, here it is. In the winter and spring when sun dried tomatoes are the answer, load up your French bread (or any bread for that matter) with our bruschetta, your favorite cheeses and toppings. It will easily fit in the toaster oven for added convenience and can be individualized so everybody's happy.
Total Cook Time: 30 minutes
Vegetarian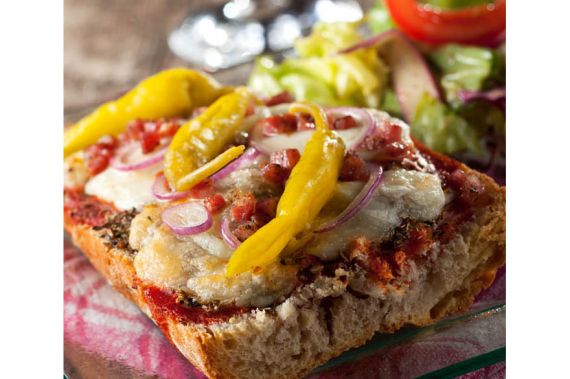 Ingredients
1 loaf crusty French bread, split, each slice (top and bottom) cut into 4, for 8 total pieces
1-8.5 oz jar Bella Sun Luci Sun Dried Tomato Bruschetta
About 2 oz black olive tapanade (black olives chopped finely)
8 oz shredded mozzarella (or any favorite cheese)
1 small-medium red onion, sliced
1 cup diced tomatoes
1 cup pepperoncini
Optional: fresh basil leaves
Directions
Preheat the oven to 425°F for about 10 minutes.
In the meantime, spread the bruschetta and tapenade evenly over the 8 pieces of bread, then the cheese, then the diced tomatoes.
Bake for 10 minutes.
Top with the pepperoncini.
Top with the basil leaves if desired.