Tuscan Braised Lamb Shank with Sun Dried Tomato Bruschetta
Overview
This dish is the definition of comfort food. Our sun dried tomato bruschetta brings its level of richness up a big step. Cook this recipe to satisfy you on cold fall and winter evenings. A glass of red wine will complete the picture.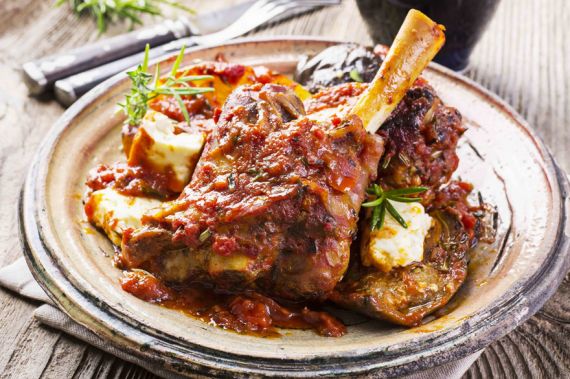 Ingredients
4 equal size lamb shanks
¼-½ cup flour
1 – 1½ oz Bella Sun Luci Extra Virgin Olive Oil
Salt and fresh cracked black pepper to taste
1 medium-large yellow onion, peeled and sliced into half moons
2 large ribs celery, cleaned and small diced
2 large carrots, peeled (if not organic) and small diced
4 garlic cloves, large diced
2 TB (1 oz) tomato paste
1 8.5 oz Jar Bella Sun Luci Bruschetta
1 bottle (26 oz) dry white (or dry red) wine
1 ½ qt chicken stock (+ 1-2 cups, reserved in case the sauce becomes dry later)
12 sprigs rosemary (4 for cooking and 4 for garnishing), leaves from the 4 for cooking removing and rough chopped
Directions
Arrange your oven racks to accommodate your 1 very large or 2 large Dutch ovens. Preheat the oven to 450.
In a very large Dutch oven (large enough to hold everything, so 12 quart size…or 2 each 8 quart size), heat the wine and stock to boiling then turn to a simmer, add the tomato paste to dissolve it, stirring, then add the onion, garlic, carrot and celery.
Flour and season the shanks. Knock off any excess flour by dropping the floured shanks onto a cutting board and discard the excess.
In a large, heavy duty frying/sauté pan, heat the oil to very hot/just smoking and (carefully, so as not to splatter) brown the shanks.
When the outside of each shank is browned/caramelized, put them into the Dutch oven(s) with the liquid and veggies and return to a boil.
Place the Dutch oven(s) into the oven UNCOVERED and set a timer for 1 ½ hours.
After 1 ½ hours, turn the shanks over and stir the veggies/liquid, scraping bottom with a wood spoon.
Set the timer for another 1 ½ hours and return everything to the oven.
After the 3 total hours add the rosemary and any additional stock if the sauce is dry), stir and serve.