Basque Norte Steak with Roasted Yukon Gold Potatoes
Overview
Basque Norte is our signature meat marinade and it comes from a restaurant here in Chico with that same name, serving, of course, Basque cuisine. The Basque region between Spain and France, is in the Pyrenees Mountains so it has a rich culinary heritage. The Basque Norte marinade sold so well over the years that we added two new flavors to our meat marinade line, Carne Asada and Korean Barbecue. These three versatile marinades are also sauces. Marinate briefly (5-20 minutes) before grilling/roasting, discard the marinade then resauce with more after cooking. If you were a cook before, now you're a chef. If you were a chef before, now you have your own secret ingredient. We won't tell if you don't.
Total Cook Time: 30 minutes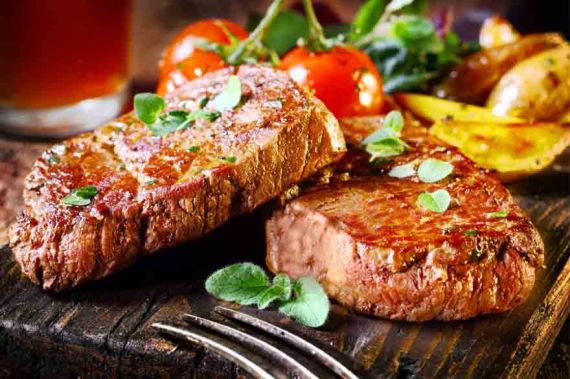 Ingredients
4 steaks cut to approximately 12 ounces each
3 oz Basque Norte Marinade to marinate the steaks
3 oz Basque Norte Marinade as a sauce for finishing the steaks
1 tbsp Bella Sun Luci Extra Virgin Olive Oil for grilling/sautéing/roasting the steaks
1 tbsp Bella Sun Luci Extra Virgin Olive Oil for roasting the potatoes
4 large Yukon gold potatoes cut into wedges
Salt and pepper to taste for the potatoes only
Fresh oregano leaves, or any favorite fresh herbs for garnish
Directions
Marinate the steaks in a plastic bag or in a container in the fridge for about 2 hours.
On a parchment paper-lined baking sheet pan, roast the potatoes in the olive oil, salt and pepper in a pre-heated 500 degree oven for 25-30 minutes.
Cook the steaks to a bit under the desired internal temperature, leaving rest time to let the juices settle inside the steaks, during which time the steaks will continue cooking to the next level of doneness.
Drizzle the remaining marinade over the steaks, garnish with the herbs and serve hot.