Summer Fresh Sun-Dried Tomato Penne Pasta
Overview
Many of the best, most popular recipes are the colors of the Italian flag, green, white and red. This super light, quick and easy pasta is surprisingly comforting and, if you've ever been there you'll know that it "tastes like Italy".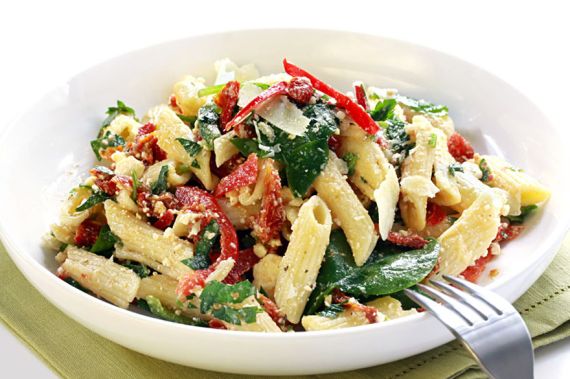 Ingredients
¾ pound Penne pasta
1 cup Bella Sun Luci Julienne Cut Sun-Dried Tomatoes (Original flavor, basil flavored, Zesty Pepper flavored, Greek flavored, or Slow Roasted flavored bags)
1 cup red bell pepper, finely chopped
4 lare handfuls (about four cups) baby spinach leaves
2 cloves fresh garlic, minced
2 TB Bella Sun Luci extra virgin olive oil
1 cup grated parmesan cheese
Salt and freshly cracked black pepper to taste
Serves 4
Directions
Cook the pasta according to the directions on the package, in salted water.
Have the rest of the ingredients, except the parmesan, waiting in a large bowl, mixed together.
Strain the pasta and when still steaming hot, toss it with the waiting vegetable mix.
Add half of the parmesan and toss again.
Portion onto four plates and garnish with the remaining parmesan.