Penne Arrabbiata
Overview
I love love love simple recipes like this. Besides the salt and pepper there are five ingredients. Arrabiata means angry. And your significant other may get angry after smelling your breath with all of the garlic in this dish, but I always say, if both of you eat it, what's the difference? Kiss the cook! And watch out for how much dry chile flakes you use. That's what the "angry" is really about.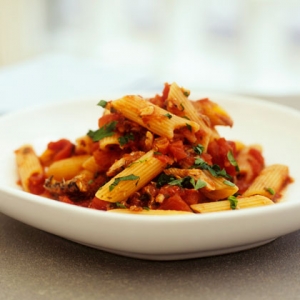 Ingredients
1½ cups Bella Sun Luci sun dried tomatoes julienne in oil, oil drained and set aside, sun dried tomatoes set aside separately
8 large garlic cloves, rough chopped
½ tsp dry chile flakes (or 1/4 tsp if less spicy is desired). Fresh chiles may also be used
6 oz dry white wine
Salt and pepper to taste
Parmesan and fresh basil leaves for garnish
Serves 4
Directions
Over a medium flame in a large sauce pan, heat 2 Tbs of the sun dried tomato oil and sauté the garlic, stirring often until light golden.
Add the chile flakes and stir 10 seconds, add the wine and the Bella Sun Luci Sun Dried Tomatoes and reduce until ½ - 1 oz of the liquid remains. Season with salt and pepper and serve hot over just-cooked, well-drained penne pasta.
Garnish with basil and parmesan.