Sun Dried Tomato Penne Pasta
Overview
The elegant simplicity and creative combination of flavors in this recipe make it a winner. If you've had a long day, pamper yourself with this dish which is super quick and easy to make. It basically has five ingredients and you only need one pot, for the pasta.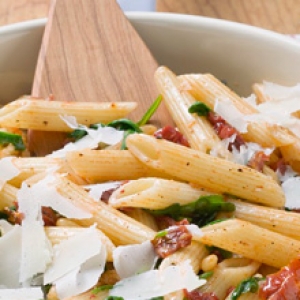 Ingredients
1 - 16 oz Box Penne Pasta
1 - 8.5 oz jar Bella Sun Luci Sun Dried Tomatoes In Pure Olive Oil & Herbs ~ Drained and chopped, reserving seasoned olive oil
1 bunch fresh basil leaves
¼ cup fresh romano cheese shavings
¼ cup Olive Oil, reserved from jar
2 Tbsp Pine Nuts, toasted
Directions
Cook pasta according to directions.
Drain pasta.
Stir in sun dried tomatoes, olive oil and fresh basil leaves.
Right before serving top with fresh shavings of romano cheese and toasted pinenuts.
To Toast pinenuts:
Place them on a cookie sheet in the oven at 350 degrees for fifteen minutes while watching them carefully to avoid burning.
Roast them until they're toasty brown and fragrant.