Penne Bolognese with Sun Dried Tomatoes
Overview
The sun dried tomatoes are a welcome addition to la famiglia with their rich tangy flavor that compliments the meat, onions, oregano, the sweetness of the carrots and the white wine's deep flavor. This recipe? Eh-oh-fuggedaboutit!!! Like my nonna's!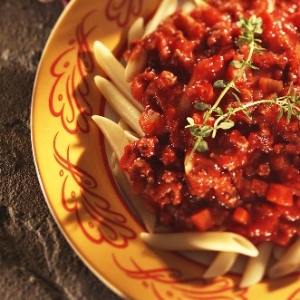 Ingredients
12 oz ground beef and 8oz ground pork, mixed together well in a large mixing bowl
2 tsp dry oregano
1½ tsp salt
⅓ tsp fresh cracked pepper
1 tbsp Bella Sun Luci extra virgin olive oil
1 medium-large yellow onion, finely diced
1 large peeled carrot, finely diced
4 large cloves garlic, minced
½ cup good quality white wine
20 ounces crushed or diced tomatoes, not drained
½ cup Bella Sun Luci sun dried tomatoes julienne, diced into smaller pieces
Parmesan for grating
Optional: Fresh garden herb sprigs or basil leaves for garnish.
Serves 4
Directions
In a very large heavy bottom sauce pan, frying pan or Dutch oven, over a medium-high flame, heat the olive oil.
Add the onion, stir often with a wood spoon and fry until golden brown.
Add the carrots, garlic oregano, and salt, then add the meat about an once at a time.
Cook on one side until brown, about 5 minutes. Break the meat up as small as possible and fry 2 more minutes until cooked through.
Add the wine, reducing to about ¾, turn down to medium, add the tomatoes and stir for 3 minutes.
Turn to low and simmer 50 minutes, stirring often, scraping the sides and bottom of pan. Add the sun dried tomatoes and stir/simmer 10 more minutes.
Simmer an additional 10-20 minutes if the Bolognese is still loose.
Serve over steaming hot penne with freshly grated parmesan and sprigs of herbs.