Pesto Penne Pasta with Chicken
Overview
In the vineyard painted hills and dramatic coastlines that Northern Italy has to offer the birth of pesto was created in Genoa, the Liguria region. Our tender sun dried tomatoes married with whole pine nuts, basil, and parmesan cheese for a fresh, robust, and nutty sauce that's rich yet bright thanks to a healthy amount of olive oil. Not far from traditional basil pesto, but with an added sweetness given from the tomatoes.
Serves: 4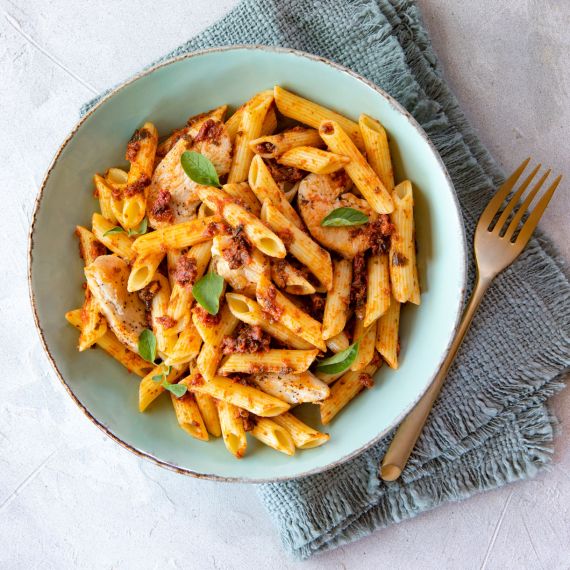 Ingredients
1 8 oz box penne pasta
1 lb chicken breast, cut in 1/2 in strips
1 c Bella Sun Luci Sun Dried Tomato Pesto
¼ c Bella Sun Luci Estate Grown Arbequina Extra Virgin Olive Oil
Salt and Pepper
Fresh oregano for garnish
Romano cheese for garnish
Directions
Cook pasta according to directions and set aside.
Lightly oil pan and preheat over medium heat.
Salt and pepper chicken then add pan and cook until nicley browned. The center of chicken should have no pink.
Add the cooked pasta and sun dried tomato pesto to chicken.
Garnish with Romano cheese and fresh oregano and serve warm.