Sun Dried Tomato and Cream Cheese Torta
Overview
Simple, five total ingredients, easy and quick to prep, this is always a winning appetizer at parties. The recipe does say to chill overnight, but in a pinch, it'll set up nicely in a couple of hours. And it's versatile and fun...serve it with bread, or crackers, or raw veggies, or all of these.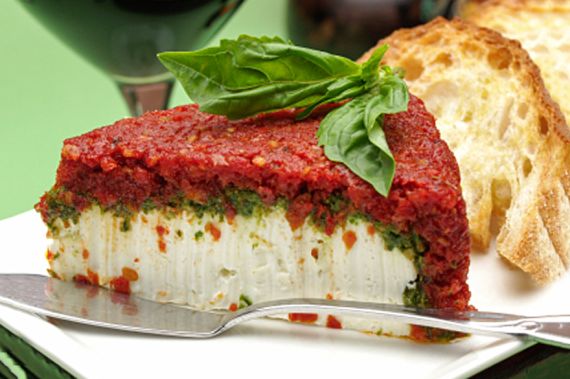 Ingredients
This is a fabulous, flavorful and easy to make hors d'ouvre that will please a crowd and jump-start your holiday dinner event. Make the day before for best results.
3 - 8.5 ounce jars Bella Sun Luci Sun Dried Tomato Halves, drained (reserve oil for sautéing or dressing), then pureed until smooth
2½ pounds cream cheese
2 cups basil pesto, drained thoroughly of its oil for at least ½ hour (reserve oil for sautéing or dressing future dishes)
Several fresh basil leaves
¼ - ½ cup toasted pine nuts for garnish
Directions
Line the bottom of a glass pie dish or 10-inch pie/cake pan with plastic wrap.
With the sun dried tomato puree, line the plastic, following the form of the bottom of the pan.
Gently add your next layer, the basil pesto, on top of the sun dried tomato puree.
Gently add the cream cheese as the next layer to fill the pan.
Cover the top with plastic wrap and refrigerate overnight.
The next day, right before serving, remove the top plastic wrap, flip the torta onto a large cutting board and remove the remaining layer of plastic wrap.
Cut one wedge out of the torta, but leave it about an inch away from where it was, then garnish with the basil leaves and toasted pine nuts, serving as chilled as possible.