Holiday torte with Cream Cheese and Green Pesto
Overview
This is a lovely appetizer any time of year, yes at holiday time but especially in the summer when basil is bountiful and sweetest. Serve with sliced or hunks of crusty bread, and or crackers. Use the leftovers, if there are any, in a quick and easy pasta.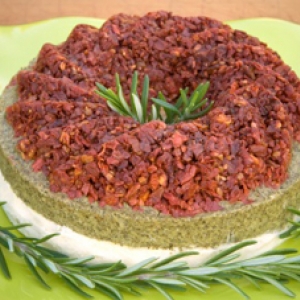 Ingredients
8 oz cream cheese
2 oz basil pesto
4 oz Bella Sun Luci Ready to Eat Sun Dried Tomatoes, Basil Flavor
Several rosemary sprigs
Non-stick spray (olive oil flavor)
Salt and pepper to taste
*Serves 4
Directions
Lightly coat the inside of a small round form or pan with non-stick spray.
Press 5 oz of your cream cheese in it to make the bottom of the torte.
Chill until firm, then slide it onto your serving plate.
Mix the pesto with the remaining 3 oz cream cheese and layer on top of cream cheese.
Pulse the sun dried tomatoes until coarse in a food processor.
Top the torte with the sun dried tomatoes.
Arrange small sprigs of rosemary in the center of the torte and long sprigs around the outside for garnish.