Southern Style Sun Dried Tomato Dip
Overview
Quick, easy and bursting with flavor, this dish is a sure-fire way to make a different kind of hit at any party. Serve with fettunta, which can be found in our recipe section, and you will be instantly transformed into a Tuscan duke or dutchess.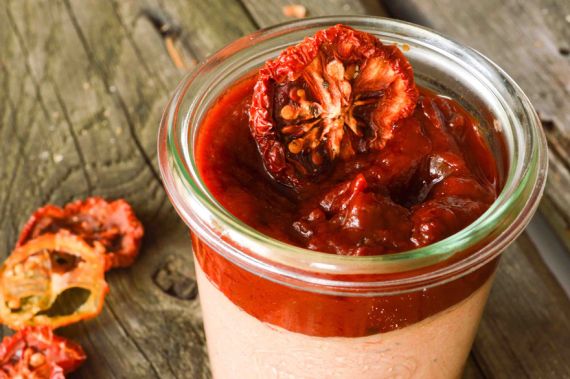 Ingredients
2 cups extra sharp cheddar cheese
8 oz cream cheese, softened
½ cup mayonnaise
½ 8.5 oz jar (about 15 pieces) Bella Sun Luci halves in oil, drained, rough-chopped, oil reserved for garnish
¼ tsp granulated garlic
¼ tsp granulated onion
¼ tsp cayenne
1 4oz jar pimientos
¼ tsp kosher salt
¼ tsp ground black pepper
Directions
Purée all of the ingredients except the cream cheese and cheddar in a food processor.
Add the cheddar and incorporate.
Add the cream cheese last, and incorporate.
Garnish
Add the remaining half of the jar of halves and the oil.