Bella's Rockefeller Siciliana
Overview
This sweet and savory Sicilian specialty is a crowd favorite.The Bella Sun Luci sun dried tomatoes paired with the corn, basil, mascarpone and ricotta will awake your taste buds and then make them dance. Use baguette or focaccia to crunch away.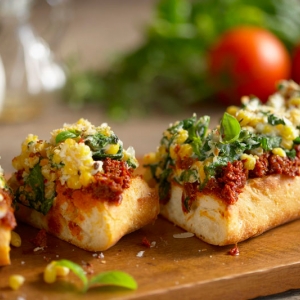 Ingredients
1 jar - 8.5 oz. Bella Sun Luci Julienne Cut Tomatoes in Olive Oil with Italian herbs, drain but reserve oil
1 - medium size baguette
⅔ cup whole kernel super sweet corn kernels
¼ tsp roasted garlic
¼ tsp crushed red pepper (optional)
¼ cup finely chopped fresh basil leaves
1 cup packed finely chopped fresh spinach
⅓ cup finely crumbled Ricotta
⅓ cup Mascarpone cheese
⅓ cup crushed garlic-butter croutons
⅓ cup freshly grated Parmesan cheese
1 - 8.5 oz. jar Bella Sun Luci Sun Dried Tomato Pesto
Directions
Heat oven to 400 degrees.
Cut french bread lengthwise and place on baking sheet facing up.
Drizzle each half with reserved olive oil and toast in oven until golden brown approx. 10 minutes.
Remove from oven and spread jar of pesto on top of both cut sides.
In a large bowl mix Bella Sun Luci Sun Dried Tomatoes Julienne Cut, corn, garlic, crushed red pepper, chopped basil, spinach, Ricotta, and Mascarpone.
Spoon onto each half of bread mounding up slightly in the center.
Mix the crushed croutons and parmesan cheese.
Sprinkle on bread halves pressing down lightly so the mixture stays in plead. Drizzle with the remaining reserved olive oil.
Bake in the center of the oven at 400 degrees for 6-8 minutes, or until the filling is hot and crumbs are browned.
Slice and serve.