California Bouillabaisse
Overview
Total Cook Time: 45 minutes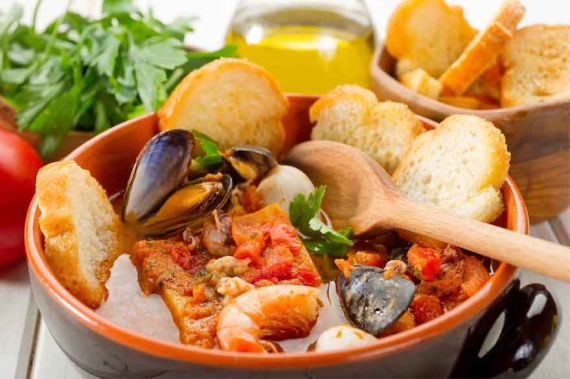 Ingredients
1 loaf sourdough baguette, sliced
8 jumbo prawns
8 jumbo sea scallops
12 black mussels
12 littleneck or other clams
4 – 2 ounce portions of fish filet (halibut, or salmon recommended)

*Optional: a few extra clams and mussels in case some don't open

6 TB (3 oz) Bella Sun Luci Extra Virgin Olive Oil, for brushing the slices of bread
2 TB (1 oz) Bella Sun Luci Extra Virgin Olive Oil for sautéing
1 small-medium yellow onion, small dice
4 cloves garlic, minced
1 tsp dry basil (and optional, ½ tsp saffron, add when adding basil)
1 c dry white wine or white vermouth (a chef's trick, for richness)
1 c fish or chicken stock
1 12 oz can diced tomatoes, drained, liquid reserved aside for another use
4 oz (about half jar) Bella Sun Luci Sun Dried Tomato Bruschetta
1 TB fresh flat leaf Italian parsley, chopped fine
Several sprigs Italian parsley for garnish
Salt and fresh cracked black pepper to taste
Directions
Preheat the oven to 400°F.
Brush the slices of bread with the 3 oz olive oil and bake in one later on a sheet pan or two until lightly toasted. Set aside.
In a separate sauce pan, over a high flame, reduce the wine by half (yield 4 oz), add the stock and diced tomatoes, bring to a boil and turn to a simmer.
In a heavy bottom soup pot or Dutch oven, sauté the onion in the 1 oz olive oil until translucent then add the garlic and dry basil, sauté 1 minute, add the simmering liquid, bring to a boil then add all of the seafood. Return to a boil, turn to a strong simmer/light boil and cook until all of the shellfish open, about 2 minutes.
Stir in the bruschetta last. Check seasoning and adjust if needed.
Portion equal amounts of each kind of seafood and the broth into bowls and arrange the toasts in the bowls. Garnish with the parsley sprigs.
Serve with extra toasts and olive oil on the side.