Italian Calzone with Ricotta, Spinach, Olives, & Sun Dried Tomatoes
Overview
This is a vegetarian classic but taken to a new place with the use of Bella Sun Luci sun dried tomatoes. If you want to, feel free to add already cooked ground meat and/or sausage, or other "pizza meats" like salami or pepperoni. Also, you may prefer cooking FRESH spinach, maybe with a little olive oil (our Bella Sun Luci extra virgin olive oil is always a good and delicious idea), garlic and salt, then after it's cool, squeeze and chop.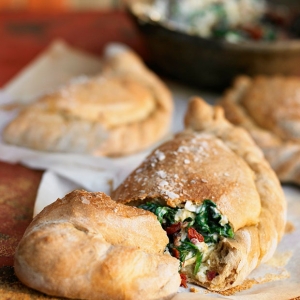 Ingredients
20 ounces pizza dough (makes 4/5 oz. calzones)
¼ cup Bella Sun Luci extra virgin olive oil
16 ounces ricotta
8 ounces parmesan cheese, grated or shredded
1-box frozen chopped spinach, thawed and strained
6 ounces chopped kalamata olives or black olives
2 - (3.5 oz. bags) Bella Sun Luci sun dried tomatoes julienne, chopped into smaller pieces
Salt and fresh cracked pepper to taste
1 - 2 Tbsp. flour for dusting
Directions
Pre-heat oven to 400º. Mix all ingredients together except the dough and oil.
Lightly dust a cutting board (or surface you will be preparing the dough on) with the flour.
Divide the dough into 4 equal pieces. Roll each piece of dough into an oblong (football) shape. Place filling into the front half of each dough circle.
Leaving about an inch of dough bare in the front. Fold the back half of the dough over the filling to overlap the front. Press down the edge to seal. Starting from one end of the calzone very tightly curl/twist the front inch of dough one small piece at a time until you go across the whole calzone.
It should end up looking like a twisted/braided edge. (see photo) Make sure to pinch both ends/corners so they are sealed.
Brush a cookie sheet with half of the oil. With a spatula place each calzone on the baking sheet, and then use the rest of the olive oil to brush the top of each calzone.
Bake for 20 minutes or until the calzone is browned on top and on the bottom (lift with spatula to check). Serve hot with our Bella Sun Luci Tomato Artichoke Pasta Sauce under each calzone or your favorite marinara.