Mediterranean Flatbread
Overview
Everyone love pizza. It's a perfect food...you start at the point of a slice, soft and luscious, saucy and cheesy, you work down to the crunchy crust and then start over all over again. Soft and crunchy, it even sounds delicious. Squeeze the liquid out of some brined quartered artichokes and add them to your flatbread for that added mediterranean sapore, flavor.
Total Cook Time: 30 minutes
Serves: 2
Vegetarian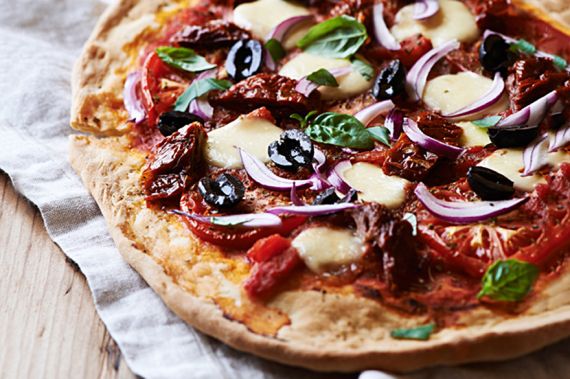 Ingredients
8 oz pizza dough
Flour for stretching the dough
2½ oz (about ¼ jar) Bella Sun Luci Sun Dried Tomato Bruschetta with Italian Basil
1 medium tomato, sliced
2 oz brie (or any cheese you prefer…mozzarella or provolone are great)
¼ cup pitted olives, cut in half
6 Bella Sun Luci Sun Dried Tomato Halves with Extra Virgin Olive Oil, cut in half, oil reserved
⅛ – ¼ small red onion, sliced very thin
10 small basil leaves
*Optional: chopped garlic, grated parmesan and chile flakes
Directions
Preheat the oven to 450 degrees F.
Stretch/roll out the dough on a cutting board or counter, using a small amount of flour to keep it from sticking to the work surface and rolling pin, if you're using one (turn the dough over a few times as you work).
Rub the reserved oil from the sun dried tomatoes onto a baking sheet.
Put the dough onto the sheet and spread the sun dried tomato Bruschetta on the dough, leaving a crusty edge. Place the tomato slices on top of that.
Sprinkle/place the cheese, olives and onions evenly over the top.
Bake 12-15 minutes until the crust is done and the cheese is lightly melted.
Sprinkle the sun dried tomatoes on top and bake 1 more minute.
Remove from the oven and sprinkle the basil leaves on top.