Savory Sun Dried Tomato Corn Muffins
Overview
Bella Sun Luci sun dried tomatoes and corn are a fun combination! It's also fun to put fresh (or in this recipe, frozen) corn into whatever you're making too. I do this with polenta, corn chowder, cornbread and now in these corn muffins. It's also a good idea, if you're using fresh corn off the cob, to do this: after you cut the kernels off, simmer the cobs in whatever liquid you're using, in this case, buttermilk, to extract a LOT of extra flavor. These muffins are great for an outdoor barbecue, any brunch, or in place of cornbread any time.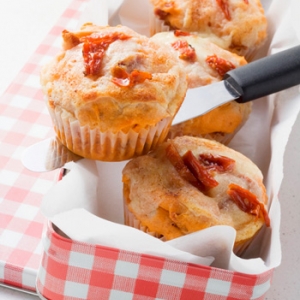 Ingredients
2 (8.5-oz) packages corn muffin mix
2 cups frozen whole kernel corn, thawed
3 garlic cloves, minced
⅔ cup sun dried tomatoes in olive oil, diced
⅔ cup buttermilk
⅔ cup sour cream
2 large eggs
Directions
Preheat oven to 375 degrees. Grease 2 muffins tins.
In a large bowl stir the muffin mix, corn, garlic, and sun dried tomatoes until combined.
In a separate small bowl whisk together the buttermilk, sour cream, and eggs until well blended.
Add the buttermilk mixture to the muffin mix. Stir to combine.
Spoon the mix into the muffins tins, filling the cups about half way.
Bake for 15 minutes until golden brown on top.