Macaroni and Sun Dried Tomato Gratin with Sharp Cheddar
Overview
A new twist on an old favorite. Also, this is how I've been doing from-scratch mac 'n cheese for 30 years, with heavy cream and sharp cheddar. The Bella Sun Luci sun dried tomato bruschetta with its touch of garlic, basil, walnuts and pine nuts really italianizes this classic, and the crunchy top is to live for.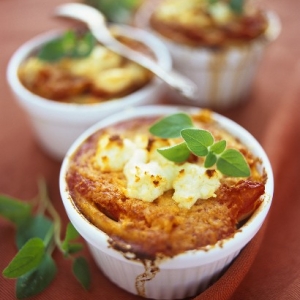 Ingredients
1 16 oz macaroni (or other pasta shape)
1 qt plus 1 cup (5 cups total) heavy cream
1 16 oz sharp cheddar cheese, shredded
12 oz grated parmesan (8oz for sauce; 4 oz for topping)
2 8.5 oz jars Bella Sun Luci Bruschetta
2 cups panko (or other) bread crumbs
2 tb dry oregano
3 tb Bella Sun Luci extra virgin olive oil
16 whole sprigs parsley plus the same amount, de-stemmed and chopped
Serves 15
Directions
Pre-heat the oven to 450
In a large (4qt) heavy bottom sauce pot, heat the cream on high until it simmers then turn to low. Watch carefully. If it starts to rise, quickly turn off and remove from burner so it doesn't boil over.
When the cream has come to a simmer, add the cheddar and 8 oz parmesan. Stir to incorporate and to keep from sticking to the bottom of the pot.
In a large (8qt) pot with abundant (6qts) water and salt, bring the water to a rolling boil. Add the pasta and cook the indicated time on the package (in this case 7 minutes).
Drain the pasta very well, return to its pot then pour the cream sauce mixture over the pasta. Stir well.
Turn this pasta-cream-cheese mixture into one or two (or three) casserole dishes.
Cover each with an equal amount of the bruschetta.
Mix together the breadcrumbs, oregano and the 4 oz remaining parmesan and spread this evenly over the bruschetta topped pasta.
Drizzle the olive oil evenly over the bread crumb mixture.
Bake 10 min at 450, turn oven to 350 and bake 10 more minutes (20 minutes total).
Serve individual operations in bowls, sprinkle the chopped parsley over each bowl and finish with a whole sprig of parsley.