Potato Gnocchi with Sun Dried Tomatoes, Sweet Onions and Basil
Overview
Sun dried tomatoes richen-up every day marinara in this northern Italian comfort food. Fun to make by hand, but great even if you buy them, gnocchi are essentially potato dumplings, but somehow the Italians seem to add flair to everything and we follow their lead with Bella Sun Luci sun dried tomato flair.
Total Cook Time: 30 minutes
Vegetarian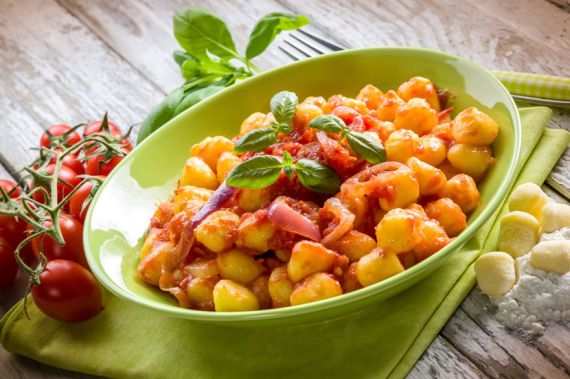 Ingredients
1 pound raw (if you're making them yourself), or ½-¾ pound pre-cooked gnocchi
1 large red onion, halved then sliced very thinly into half moons
1 TB Bella Sun Luci Extra Virgin Olive Oil
1 8.5 oz jar Bella Sun Luci Sun Dried Tomatoes Julienne Cut with Extra Virgin Olive Oil and Italian Herbs, oil drained, reserving 1 TB of the oil for this dish
8 oz marinara sauce
8 basil leaves, fine chiffonade
Salt and pepper to taste
8 florets basil for garnish
4 TB (2 oz) freshly grated parmesan for finishing at the table
Directions
Sauté the onion in the 1 tablespoon of extra virgin olive oil over a high flame until tender, add the 1 tablespoon of oil from the sun dried tomatoes, turn to medium low and sauté until the onion is translucent and very soft.
Add the sun dried tomatoes and the marinara. Bring to a boil then turn to medium heat and simmer for 20 minutes. Season with salt and pepper, add the basil chiffonade and serve over gnocchi.
Garnish with basil florets and serve hot, with parmesan on the side.