Picnic Pasta Salad
Overview
This fresh and very Italian tasting pasta salad is literally and figuratively a picnic. Easy as 1-2-3, or 1-2-3-4-5-6 because it has 6 total ingredients. The preperation is easy but does require 2 hours to chill, so allow time for this. Or eat it right away, as a hot pasta, or room temp. Buon appetito!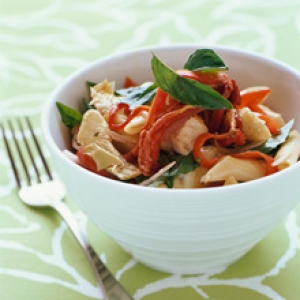 Ingredients
1 cup Bella Sun Luci Sun Dried Tomatoes Julienne cut
1 Jar Marinated Artichoke - chopped
1 Cup Prosciutto - diced
1 Cup Mozzarella Cheese - diced
1 Mix Bowtie or Favorite Bite Size Pasta (cooked & cooled)
½ Bottle Favorite Italian or Balsamic Dressing
Directions
Toss all ingredients together and chill for 2 hours.