Sun Dried Tomato Pistachio Cheese Bites
Overview
Looking for the perfect holiday appetizer? Look no further! Our Sun Dried Tomato Pistachio Cheese Bites are a crowd pleaser and easy to make!
Total Cook Time: 30 minutes
Serves: 6
Vegetarian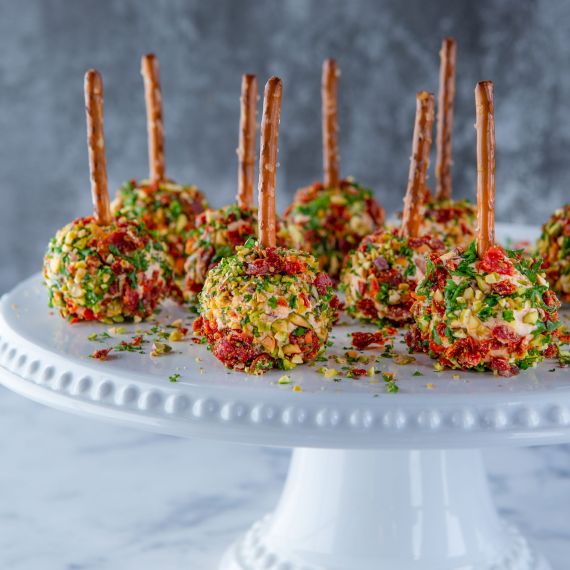 Ingredients
½ c Bella Sun Luci Sun Dried Tomatoes 3 oz Bag, finely diced
½ c pistachios, finely chopped
⅓ c fresh parsley
8 oz cream cheese, softened
8 oz goat cheese
2 tbsp Bella Sun Luci Sun Dried Tomato Pesto
18 pretzel sticks

Directions
1. In a medium bowl mix together the chopped sun dried tomatoes, pistachios, and parsley; set aside.
2.In a separate bowl blend together goat cheese, cream cheese, and pesto until well combined.
3. Roll bite-sized balls, rolling them with your hands to form. Next, roll the cheese balls into the chopped mixture until evenly coated.
4. Set the cheese balls onto a serving tray and chill in the refrigerator for one hour.
5. Once chilled, remove from fridge and stick the center of each cheese ball with a pretzel prior to serving!