Pinecone Pesto Cheese Ball
Overview
A crunchy nutty layer surrounds the creamy cheese ball filled with authentic Italian seasonings and sun dried tomato pesto. A cheesy delight to guests this recipe can be made ahead of time and chilled prior to serving alongside crackers or cut vegetables. Each cheese pinecone contains three cheeses to create an unforgettable flavor with a jaw dropping presentation. Garnish with fresh rosemary for an added wow factor!
Total Cook Time: 15 minutes
Serves: 6
Gluten Free Vegetarian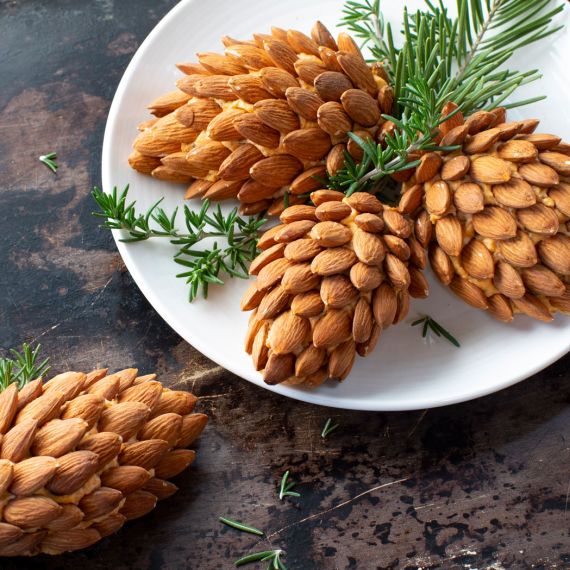 Ingredients
¼ c Bella Sun Luci Sun Dried Tomato Pesto
2 8 oz cream cheese package, softened
4 oz mascarpone cheese
1 tsp Italian seasoning
1 tsp garlic, minced
1 tsp pepper
1 tsp salt
2 c almonds, toasted
4 sprigs of fresh rosemary
1 package preferred cracker
Directions
1. Combine pesto, cream cheese, mascarpone cheese, seasoning, garlic, and salt and pepper in a bowl until well combined.
2. Divide cheese mixture into fourths. Shape each fourth into a small oval that slightly pointed at one end to resemble a pinecone.
3. Place shaped cheese mixture well spaced onto plate.
4. Insert nuts at a slight angle, starting form point to rounded end, working them in horizontal rows.
5. Tuck rosemary springs around pinecones to resemble tree branches.
6. Refrigerate two hours. Let stand at room temperature for 15 minutes and serve alongside preferred cracker.