Sun Dried Tomato Pumpkin Shaped Cheese Ball
Overview
Carve out a creamy bite from this sun dried tomato cheese ball this season! An eye catching cheese spread made from cream cheese, sharp cheddar, and silky extra virgin olive oil. This festive pumpkin shaped appetizer is just the rigtht fit your harvest party paired with a toasted sourdough cracker or sliced garden veggies.
Total Cook Time: 30 minutes
Serves: 6-8
Gluten Free Vegetarian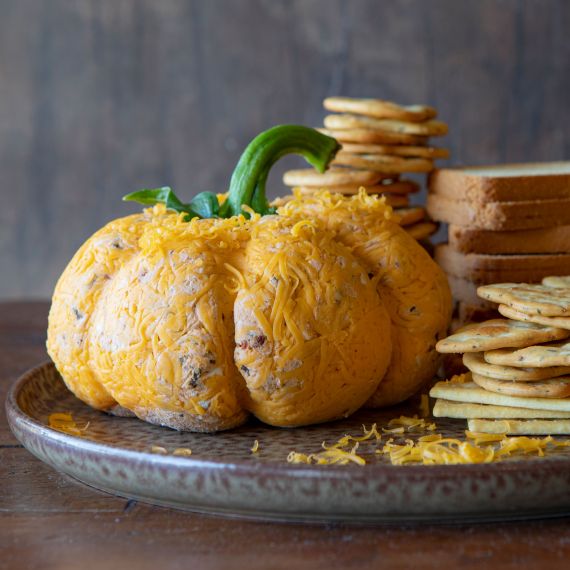 Ingredients
16 oz cream cheese, room temperature
3½ c cheddar cheese, finely graded
1 c Bella Sun Luci Sun Dried Tomato Julienne Cut in olive oil, diced
½ c Bella Sun Luci Bruschetta
1 bell pepper
Directions
Add cream cheese, 1½ cups of cheese, bruschetta, and diced sun dried tomatoes to bowl and mix until combined.
Transfer ball mixture to a sheet of plastic wrap and use plastic to form cheese mixture into a ball. Place 3-4 thick rubber bands around plastic wrap as pictured to shape into pumpkin. Refrigerate for at least 4 hours, or overnight.
When ready to serve remove shaped ball from fridge, and gently press in finely shredded cheese. Top pumpkin with bell pepper stem to finish. Serve with crackers and sliced bell peppers.