Mediterranean Chicken
Overview
This is literally a winner. It won first place in our recipe contest one year. I'd say I've made this very mediterranean, artichoke-focused dish 100 times. It's always a crowd favorite and should be served at special occasions, or often, whichever comes first.
Serves: 4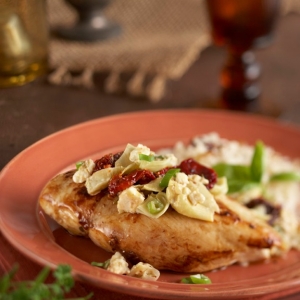 Ingredients
1 Jar - 8.5 oz. Bella Sun Luci Sun Dried Tomatoes in Olive Oil & Herbs
1 cup well drained, chopped artichoke hearts
4 oz. crumbled Feta cheese
¼ cup freshly grated Parmesan cheese
½ cup mayonnaise
1 garlic clove, minced
4 green onions, diced
½ tsp. Kosher salt
½ tsp. freshly ground black pepper
4 boneless skinless chicken breasts, flattened slightly to an even thickness
4 cups hot cooked rice
¼ cup slivered almonds, lightly toasted
¼ cup fresh basil leaves, julienned
Serves 4
Directions
Preheat oven to 350 degrees. Drain sun dried tomatoes, reserving oil.
In a large mixing bowl blend 1/2 cup of the drained tomatoes with the chopped artichoke hearts, feta and parmesan cheeses, mayonnaise, garlic, green onions, salt and pepper.
Heat reserved olive oil (from tomatoes) in a large skillet placed over medium heat; when hot, add chicken and sear both sides to light brown.
Remove chicken to oven-proof casserole dish and arrange in a single layer.
Top chicken with tomato-artichoke mixture. Place uncovered dish into the preheated oven and bake 20-30 minutes, or until hot and bubbly.
Mix remaining sun dried tomatoes with the cooked rice and almonds.
Press 1/4 of the rice into a cup or large ramekin, then invert onto plates.
Rice should come out in a molded shape, repeat.
Place chicken on top of each serving of rice and sprinkle with basil leaves.