Sun Dried Tomato Topped Burrata Spread
Overview
This simple six ingredient dish is a quick and fool proof appetizer for any skill level. A true crowd pleaser this recipe will be the ultimate dip or spread at your next party or get together. So simple to make and prepared with homemade crostini.
Total Cook Time: 15 minutes
Serves: 4
Gluten Free Vegetarian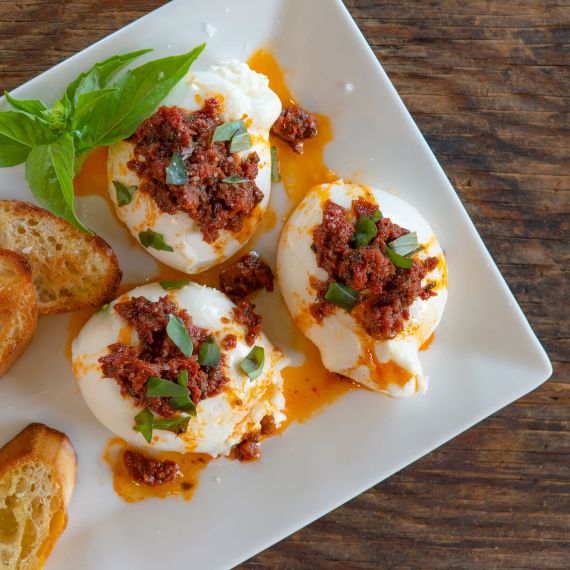 Ingredients
3 large burrata balls
½ c Bella Sun Luci Sun Dried Tomato Pesto with Pine Nuts
1 baguette, sliced
3 tbsp extra virgin olive oil
Salt & Pepper
Fresh Basil for Garnish
Directions
Preheat over to 350 degrees. Take sliced baguette and place open face don a cookie sheet. Drizzle olive oil then salt and pepper to taste. Toast in the oven for 15 minutes or until golden brown.
While the sliced baguette bakes, take the balls of burrata and place on serving platter. Evenly topped the pesto on each of the burrito balls. Garnish with fresh basil.
Let the crostini cool and serve alongside burrata dip.