Sausage Sauté
Overview
For a simple recipe that is ready for mealtime in under thirty minutes look no further, a bright color palette of ingredients come together quick to bring robust flavors to this dish! Freshly sliced bell peppers and white onion absorb the flavors of the herb infused olive oil our tender sun dried tomatoes are seasoned in.
Total Cook Time: 30 minutes
Serves: 4
Gluten Free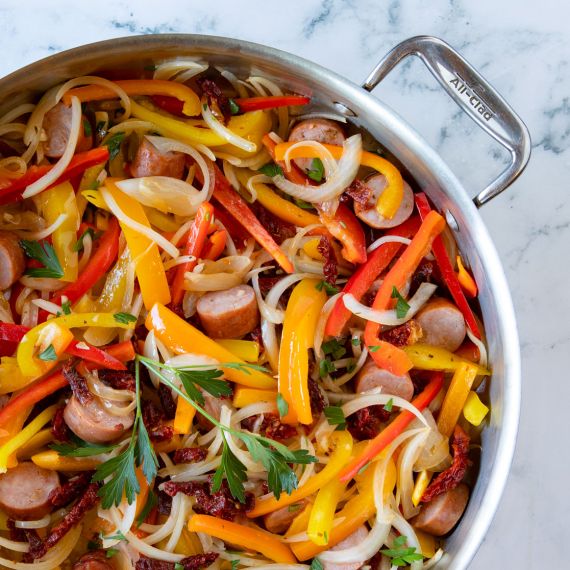 Ingredients
1 red bell pepper
1 orange bell pepper
1 yellow bell pepper
1 medium white or yellow onion
3 garlic cloves, minced
4 tbsp olive oil from jar of Bella Sun Luci Sun Dried Tomatoes
1 c Bella Sun Luci Julienne Sun Dried Tomatoes in Olive Oil, oil reserved
2 links Italian sausage, precooked
Directions
Core and cut bell peppers into length wise pieces. Prepare the onion by slicing them into lengthwise pieces.
Heat the herbed olive oil in a medium sized skillet over low heat. Then toss in bell peppers, onion, and garlic to sauté for about 15 minutes or until the onions are translucent.
While the vegetables sauté, slice the cooked sausage in 1'' rounds.
Add the sun dried tomatoes and sausage to the pan then let sauté for an additional 10 minutes.
Remove the color mix from the heat and garnish with fresh chopped oregano.